Learn more about Chad's book, Blind Ambition™
Top Quotes for Overcoming Your Fears
One of the biggest obstacles between us and our goals is fear. We all deal with fear, so it's important that we look at fear through the right lens. Below are some quotes that can help you step through your fears to live your best life in pursuit of your goals.
Chad's QUOTES
"If you're not getting outside of your comfort zone, then you're not growing."
"Life begins outside of our comfort zone."
"If you never dare to be great, you'll always be mediocre."
"Courage is not the absence of fear. Courage is doing something despite the presence of fear."
"If you're not failing from time to time, you're not aiming high enough."
"Get comfortable with discomfort."
"We're all capable of more than we think is possible, and that includes you."
"Are you more scared of failure, or not knowing how wildly successful your life could've been?"
"What's scarier, failing in pursuit of your goals, or living a life with regrets?"
Other Famous Quotes
"You can choose courage or you can choose comfort. You cannot have both."
— BRENE BROWN
"Before anything great is really achieved, your comfort zone must be disturbed."
– RAY LEWIS
"If you want something you've never had, you must be willing to do something you've never done."
– THOMAS JEFFERSON
"A ship is always safe at the shore-but that is not what it is built for."
— ALBERT EINSTEIN
"Do one thing every day that scares you."
– ELEANOR ROOSEVELT
"Inaction breeds doubt and fear. Action breeds confidence and courage. If you want to conquer fear, do not sit home and think about it. Go out and get busy."
– DALE CARNEGIE
"We cannot become what we want to be by remaining what we are."
— MAX DEPREE
"If you put yourself in a position where you have to stretch outside your comfort zone, then you are forced to expand your consciousness."
— LES BROWN
"Most everything that you want is just outside your comfort zone."
— JACK CANFIELD
"Comfort zones are plush lined coffins. When you stay in your plush lined coffins, you die."
— STAN DALE
"If we're growing, we're always going to be out of our comfort zone."
— JOHN C. MAXWELL
"All growth starts at the end of your comfort zone."
— TONY ROBBINS
"As you move outside of your comfort zone, what was once the unknown and frightening becomes your new normal."
– ROBIN S. SHARMA
"The hardest thing to do is leaving your comfort zone. But you have to let go of the life you're familiar with and take the risk to live the life you dream about."
– T. ARIGO
"You miss 100% of the shots you don't take."
– WAYNE GRETZKY
"The comfort zone is nothing else but a graveyard for your dreams & ideas."
– ANONYMOUS
"We have to be honest about what we want and take risks rather than lie to ourselves and make excuses to stay in our comfort zone."
— RAY BENNETT
"If it doesn't challenge you, it doesn't change you."
— UNKNOWN
"Great people do things before they're ready."
— AMY POEHLER
"Each time you try something for the first time you will grow-a little piece of the fear of the unknown is removed and replaced with a sense of empowerment."
— ANNETTE WHITE
"I will guarantee you that the day you step outside your comfort zone by making success your goal, is the day you discover that adversity, risk, and daring will make life sweeter than you ever imagined."
— MARK BURNETT
"Don't confuse comfort with happiness."
– DEAN KARNAZES
"Greatness begins beyond your comfort zone."
– ROBIN S. SHARMA
"Twenty years from now you will be more disappointed by the things that you didn't do than by the ones you did do. So throw off the bowlines. Sail away from the safe harbor. Catch the trade winds in your sails. Explore. Dream. Discover."
– MARK TWAIN
"If you are not willing to risk the unusual, you will have to settle for the ordinary."
– JIM ROHN
"If your goal is to be comfortable, chances are you'll never get rich. But if your goal is to be rich, chances are you'll end up mighty comfortable."
– T. HARV EKER
"Very successful people don't seek comfort, they seek success and are willing to do what is most uncomfortable. But most of the world is seeking comfort and familiarity which are traps that cause you to settle for the mediocre. If you want to get to the next level of your business you've got to be comfortable with being uncomfortable."
– GRANT CARDONE
"Don't be afraid to give up the good and go for the great."
– STEVE PREFONTAINE
"The comfort zone is always the most desirable place to be. But in settling for comfort, there is a price to pay and it comes in the death of ambition, of hope, of youth and the death of self."
– SIMON BARNES
"Comfort is the enemy of achievement."
– FARRAH GRAY
"The best piece of advice someone has ever given me was 'do it scared.' And no matter if you're scared, just go ahead and do it anyway because you might as well do it scared, so it will get done and you will feel so much better if you step out of your comfort zone."
– SHERRI SHEPHERD
"Good is the enemy of great. And that is one of the key reasons why we have so little that becomes great. We don't have great schools, principally because we have good schools. We don't have great government, principally because we have good government. Few people attain great lives, in large part because it is just so easy to settle for a good life."
– JAMES C. COLLINS
"The biggest rewards in life are found outside your comfort zone. Live with it. Fear and risk are prerequisites if you want to enjoy a life of success and adventure."
– JACK CANFIELD
"Don't worry about failures, worry about the chances you miss when you don't even try."
– JACK CANFIELD
"Too many of us are not living our dreams because we are living our fears."
— LES BROWN
"The comfort zone is the great enemy of courage and confidence."
— BRIAN TRACY
"Even the smallest changes in our daily routine can create incredible ripple effects that expand our vision of what is possible."
— CHARLES F. GLASSMAN
"We're all risk averse creatures, aren't we? Like turtles, hiding in our little shells, trying to protect ourselves - never quite realizing that we're protecting ourselves from the good stuff as well as the bad."
— DEBBIE JOHNSON
Keynote Programs
Explore our programs to see which one can help your organization create a culture of growth to adapt and thrive in an ever-changing landscape.
Inquire About Speaking
To inquire about speaking, call 855-GET-CHAD and press Option 1 to connect with Brandy Gibson at Executive Speakers Bureau.
Already Confirmed Pricing and Availability?
Submit your event details using the Pre-program questionnaire.
Get a Free Chapter from Chad's Book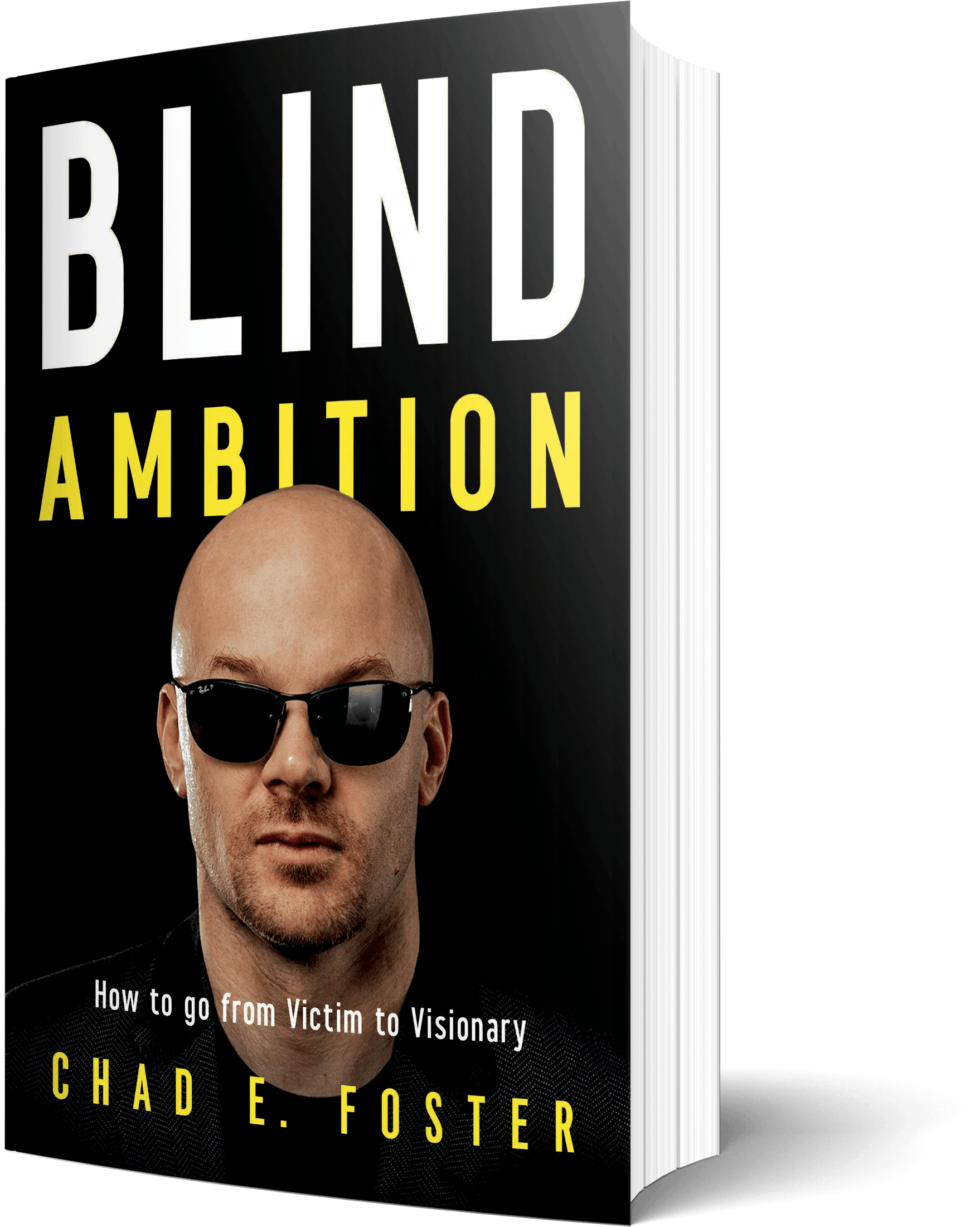 Blind Ambition™
If you don't feel like you're reaching the levels of happiness that you see others enjoy, or your goals seem out of reach, you're not alone. Life is too short for regrets. Learn how to use your mindset to reach your most daring dreams. Chad's stories and lessons will inspire, empower, and prepare you to face uncertainty with hope and optimism. Want to be mentally tough, strong, resilient and prepared to adapt and thrive in changing circumstances? Self-confident to become your best you? It's time to break free from the self-destructive thoughts that hold you back.
Ready To Turn Your Biggest Obstacle Into Your Biggest Advantage? The stories we tell ourselves either limit us or propel us towards our goals.