Learn more about Chad's new book, Blind Ambition™
What is a Great Keynote Speaker?
An uplifting keynote speaker doesn't just inspire - they open hearts and minds to a new perspective, allowing them to color outside the lines and change their perspective. If you're ready to shake up the status quo and inspire your audience to take action based on new learnings, look for a keynote speaker with powerful storytelling, entertaining delivery, and differentiated content. This ensures audience members hang on every word while being entertained and moved by an experience they'll never forget. If this sounds like the kind of keynote speaker you're interested in for your next event, read below to see how Chad E. Foster can help.
Chad E. Foster's Keynote Programs
Impactful Storytelling. Powerful storytelling that creates unforgettable experiences while keeping your audience members engaged throughout the entire keynote program.
Entertaining Delivery. It's as much about entertaining and engaging your audience as it is about educating them. What good is great content if noone is listening? Chad will elicit laughs, inspire with deep knowledge, and motivate attendees beyond the keynote program to take action.
Differentiated Content. Chad will demonstrate concepts, language, and methods that are simple and easy to apply. And, they can absolutely transform individuals to generate a quick positive culture shift within your company.
Accessible and Based on Experience and Science. Chad has spent years understanding the characteristics of human behavior that powered him forward in the face of overwhelming obstacles, which are simple and easy to apply – so anyone can start using them right away. Although the content aligns with the science of human behavior, It won't feel like a science lesson because everything is explained in everyday terms and without the use of complicated technical jargon.
Chad's keynote programs are motivating and informative, leaving his audiences wanting more. If you're looking for an inspiring keynote speaker who can create a high-impact experience for your organization, contact Chad today.
Inquire About Speaking
Get a Free Chapter from Chad's New Book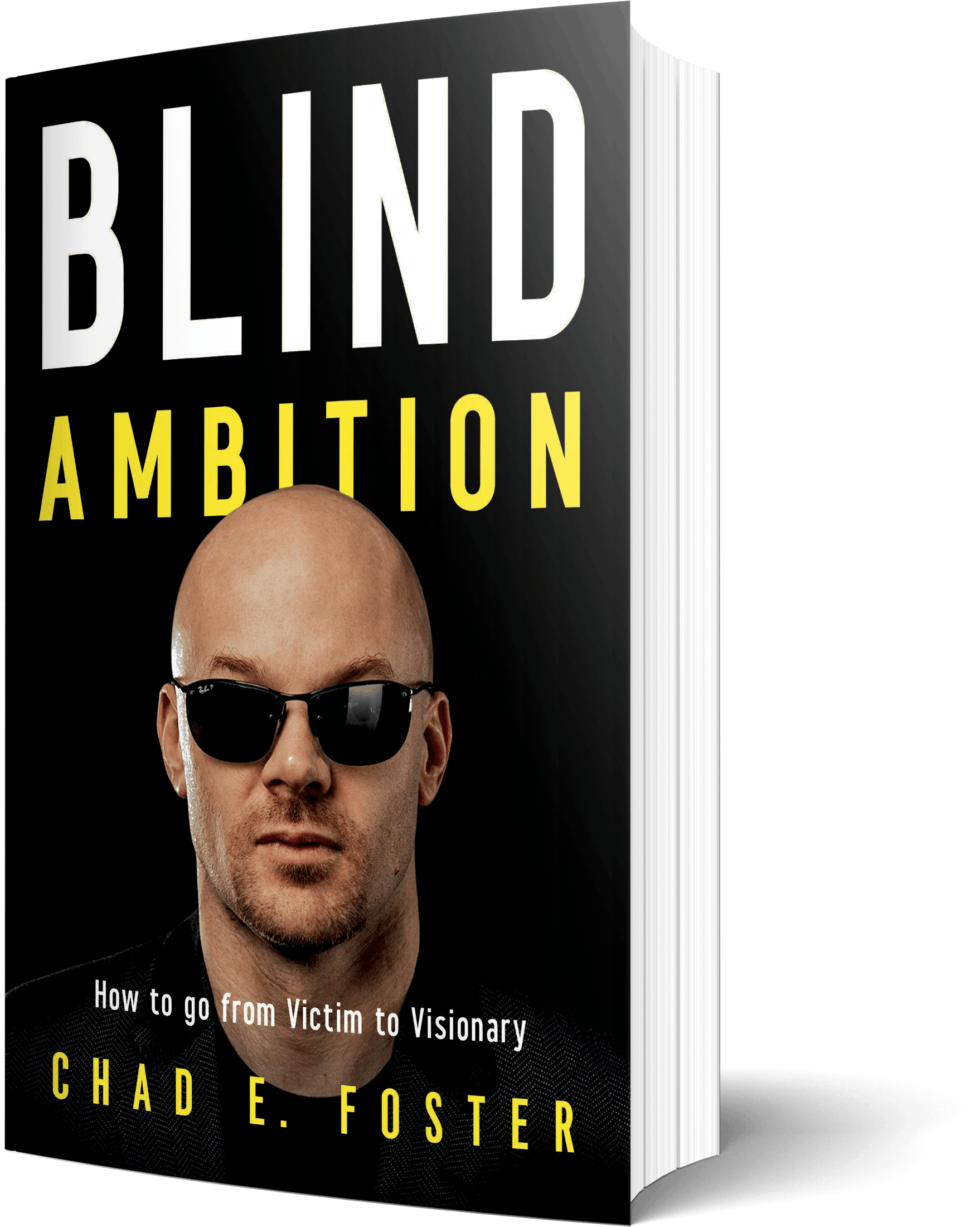 Blind Ambition™
If you don't feel like you're reaching the levels of happiness that you see others enjoy, or your goals seem out of reach, you're not alone. Life is too short for regrets. Learn how to use your mindset to reach your most daring dreams. Chad's stories and lessons will inspire, empower, and prepare you to face uncertainty with hope and optimism. Want to be mentally tough, strong, resilient and prepared to adapt and thrive in changing circumstances? Self-confident to become your best you? It's time to break free from the self-destructive thoughts that hold you back.
Ready To Turn Your Biggest Obstacle Into Your Biggest Advantage? The stories we tell ourselves either limit us or propel us towards our goals.
To inquire about speaking, call 855-GET-CHAD and press Option 1 to connect with Stephen Kirkpatrick at Executive Speakers Bureau.
Already Confirmed Pricing and Availability?
Submit your event details using the Pre-program questionnaire.