Learn more about Chad's new book, Blind Ambition™
Chad has been featured on Healthcare Keynote Speaker
Are you looking for a keynote speaker who understands the challenges facing healthcare? Could having the right keynote speaker help your organization bounce back from the challenges of the last few years? As a keynote speaker to a number of leading companies in healthcare, Chad E. Foster  has delivered high-impact keynote programs to inspire teams, show resilience, and power progress.
Healthcare continues to rise and meet the challenges presented by the recent global pandemic. With the extreme demands placed on staff and limited supplies, breakneck speed they operated at in response to the recent global crisis, the healthcare sector continues to serve as a beacon of hope – demonstrating the power of human centered innovation at a time of need.
Not only did healthcare reinvent how and where medical care is performed by scaling telemedicine for patients, it also balanced staff shortages and associate burnout, all while developing and delivering vaccines, treatments, and related supplies in record time.
In addition to the recent changes brought about by the pandemic, healthcare is still facing rising costs, an aging population, a growing number of chronic diseases, evolving ways of caregiving, technology advancements, and higher labor costs due to workforce shortages. According to the Department of Health and Human Services, about 16% of U.S. hospitals had critical staffing shortages as of October 2021. Providers, nurses, and even call center agents were in short supply.
Shifting Consumer Preferences
Meanwhile, consumers have been conditioned by online shopping that offers pushbutton purchases, complete order tracking, and same/next day delivery, which has altered the expectations of healthcare consumers. As such, healthcare consumers are playing a more active role in their medical care, valuing convenience, visibility, and access to care needs. Early diagnosis, preventative treatments, and new care models will prove instrumental to help offset the many challenges facing the industry.
Payment Models
The industry is also shifting towards value-based care. Instead of being paid based on the number of visits, exams, or patients being examined, new payment models are being anchored to favorable patient outcomes – quality instead of quantity.
New Ways of Caregiving
When Covid made its way through our society, it forced many, including healthcare providers, to rethink where and how to deliver services. Because of that, telemedicine is now more mainstream than it has ever been before – jumping from less than 1% of visits in February 2020 to 43% in April. Although virtual care offers a lower-cost option for medical care, it also presents security and related concerns that will need to be considered – cyber attacks have become a growing problem for healthcare infrastructure, targeting organizations such as Pfizer, BioNTech, and the European Medicines Agency.
Collaboration
Covid also forced many in the healthcare system to collaborate just to keep up with resource and capacity demands. No single organization could meet all of the needs presented by Covid without working with others in the supply chain. This collaborative mindset will prove useful when healthcare companies prepare to solve problems by partnering with organizations that have augmenting unique skills-sets.
With the increased use of technology, healthcare companies have made strides in their digital transformation journeys. Along that journey, healthcare organizations will find themselves shifting from data collection to data mining, enabling healthcare providers to identify and extract insights, monetize new product offerings, and provide higher quality care.
Technologies Impacting Healthcare
Technologies such as Big Data, Artificial Intelligence (AI), Machine Learning (ML), Internet of Things (IoT), Natural Language Processing (NLP), cloud computing, 5G, and remote patient monitoring/wearables will coalesce and empower healthcare organizations to accelerate their medical care roadmaps. AI is already revolutionizing radiology by reducing redundant tasks, eliminating bias in reading scans, and predicting risk and enhancing workflow processes – all by pinpointing data patterns in images.
Case in Point
In fact, GE and Intel are partnering to enhance patient care and reduce cost using digital imaging solutions deployed in public cloud and edge environments – creating hospital efficiencies through better asset utilization/throughput, reducing patient risk and dosage exposure, and expediting time to diagnosis and treatment while increasing image processing times.
Healthcare Keynote Testimonials
"Everyone was thrilled with the talk and felt that if anyone missed it, they really missed out."
— Novo Nordisk
"Chad touches your heart and powers your will"
— Amgen
"You are an inspiration to all of us, especially during these difficult times. The way you have overcome your challenges will help motivate all of us to overcome the (by comparison) small obstacles in our lives."
— Takeda
Healthcare Keynote Speaker
Every industry is being pushed into change, in some cases faster than they prefer. Few industries have seen the pace of change that the healthcare industry has dealt with. In his healthcare-oriented keynote addresses, Chad shares with audiences how to embrace the rapid pace of change in this industry with humor and excitement while discussing the unique technological challenges facing the industry, proven techniques on how to embrace change and make it work for your business, and the significant opportunities that have come about from the disruption of rapid change.
Inquire About Speaking
To inquire about speaking, call 855-GET-CHAD and press Option 1 to connect with Stephen Kirkpatrick at Executive Speakers Bureau.
Already Confirmed Pricing and Availability?
Submit your event details using the Pre-program questionnaire.
Business Keynote Speaker
Identifying a keynote speaker with corporate experience is important as audiences face an onslaught of challenges. As a Keynote speaker and business leader, Chad E. Foster has extensive experience leading corporate teams and speaking at events and conventions for a number of leading companies in the corporate arena, including Google and Salesforce.
Industries throughout the world are experiencing unprecedented disruption due to a number of factors. Digital transformation is affecting all sectors of the economy, and the recent global pandemic has reshaped how we transact, go to market, and work – even how we live our daily lives.
Given the velocity of change and its impact on commerce, it has never been more important to improve our ability to adapt to changes, shift our mindset, and reinvent ourselves and our businesses.
Adapt and Thrive Amid the Uncertainty
Reinventing oneself and one's organization takes a combination of factors. But one thing we know for sure, having the right tools/technology is not enough. In order for organizations to navigate these uncertainties, it takes an alignment of technology, processes, and people.
Creating a Resilient Culture
So, how can you create a culture that prepares your people to deal with the onslaught of changes coming at them? Empowering associates to thrive in change isn't easy but it's not impossible either.
It starts with creating a culture that's prepared to turn obstacles into opportunities so you can take advantage of your disadvantages. So how can we take advantage of our disadvantages?
Case in Point
One such example in the business world may be found in the retail sector. In 2012 Best Buy was facing intense pricing pressure from online retailers when its new CEO, Hubert Joly, decided to look at its portfolio of brick-and-mortar stores with a fresh set of eyes. Instead of viewing them as a liability, he chose to use them as assets in an innovative business redesign that created the stores-within-a-store model where supply chain partners would invest in retail point of sale storefronts to enhance product and sales expertise for their products, leading to higher customer satisfaction, reduced cost for suppliers, and reduced cost for Best Buy through supplier investments. The company also started using these storefronts as distribution centers in order to beat online retailer delivery times. Had the company thought about its network of stores as just a liability, it would've never been able to reimagine its future and take advantage of its disadvantages.
Unlocking your organization's possibilities starts with influencing the mindset of every individual in your organization, so you can leverage the collective potential of each person. The power lies in having an organization of forward thinkers who can reimagine ways of doing business in a differentiated way.
Individual Mindset and Company Culture
We know that Our mindset affects the language we use and the actions we take. Knowing that holds true for each individual, the collective behaviors of our organization are affected by the way each individual thinks and acts.
So, if we want a resilient company culture, we need a workforce made up of resilient individuals, which is why it's so crucial to influence how each person in your organization thinks about navigating change, turning obstacles into opportunities, and reaching their full potential – so your business can reach its full potential.
Get a Free Chapter from Chad's New Book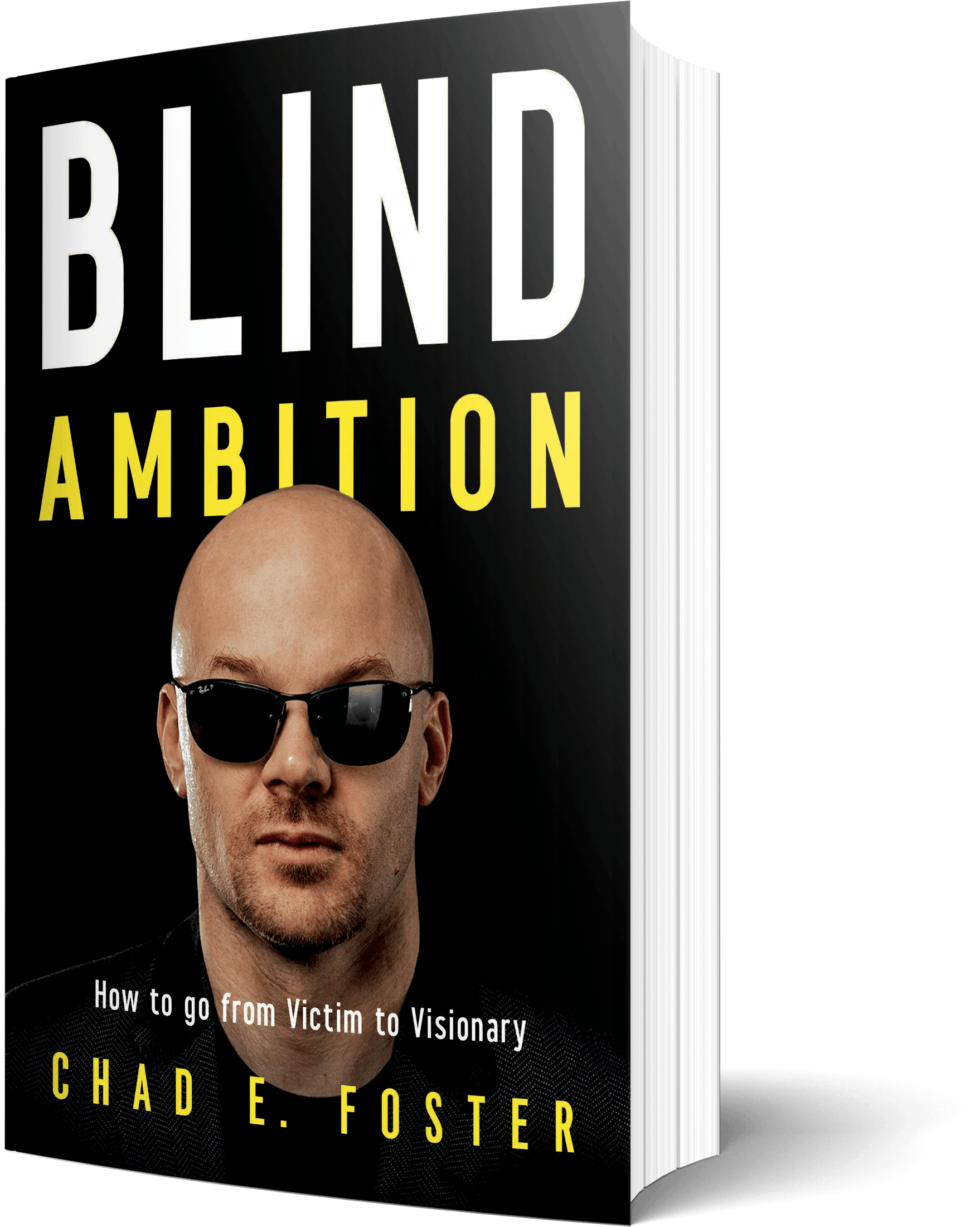 Blind Ambition™
If you don't feel like you're reaching the levels of happiness that you see others enjoy, or your goals seem out of reach, you're not alone. Life is too short for regrets. Learn how to use your mindset to reach your most daring dreams. Chad's stories and lessons will inspire, empower, and prepare you to face uncertainty with hope and optimism. Want to be mentally tough, strong, resilient and prepared to adapt and thrive in changing circumstances? Self-confident to become your best you? It's time to break free from the self-destructive thoughts that hold you back.
Ready To Turn Your Biggest Obstacle Into Your Biggest Advantage? The stories we tell ourselves either limit us or propel us towards our goals.