Learn more about Chad's new book, Blind Ambition™
Chad has been featured on Education Keynote Speaker
Are you looking for a keynote speaker who can help prepare your audiences for the shifts in the learning landscape? A keynote speaker with experience in education? A keynote speaker with experience speaking at events and conventions for a number of leading organizations in the education sector, such as Harvard Business School?
The global pandemic accelerated many changes already facing the higher learning landscape, and many are here to stay. Feelings of isolation have underscored the importance of wellbeing and support, affecting both students and staff alike – both are eager for opportunities to connect, and many faculty and staff are dealing with burnout from the stress of the shift to online learning, budget cuts, furloughs and layoffs, the threat of Covid, and working long hours to keep up.
Flexible Learning
Also similar to corporate environments, education consumers found the flexible learning options spawned by the pandemic to be a silver lining of Covid challenges, and education leaders are responding with greater investments in digital and part-time learning courses. The ubiquitous digital access to music, movie, and new/media will eventually create the same expectations for learning – any time, any place access to content. Not only can students learn from anywhere with greater flexibility, they can also immerse themselves everywhere – applying course concepts across cultures and borders. Virtual learning options come with challenges however, with some students lacking access to high speed broadband and limited computer/device options – intensifying the pressure for higher learning to lower the cost of an education.
Shorter Curriculum Offerings
Although overall enrollment numbers are declining, the rise in shorter, flexible course options designed for just-in-time learning is causing many organizations to implement new business models –leading to the reskilling of staff and new executive education offerings. The velocity of change lessens the usefulness of multi-year degrees, valuing labor market-oriented certificates and credentials that consume less time and enable students to meet the dynamically changing needs of businesses.
Impacts of Shutting Down On-campus Activities
AS many institutions shut down on-campus activities during the pandemic, they learned the value and importance of digital equivalents such as virtual campus tours, virtual advertising, virtual advising, and virtual course options. But when Covid shut down much of the economy and put many state budgets in the red, higher learning organizations were face-to-face with drastically reduced funding – forcing education organizations to course correct by finding new revenue sources or risk cutting programs and laying off faculty and staff.
Post-graduationCareer Paths
With rising higher learning costs and a favorable job market, students are understandably more closely scrutinizing post-graduation career paths. Many career concerns start well before university enrollment, so higher learning organizations can differentiate themselves by focusing on career prospects and connection to alumni in their targeted career area.
And the gap between business needs and academic curriculum highlights how higher learning institutions are constantly playing catch-up with the quickly changing business landscape – although 96% of Chief Academic Officers think they're doing a good job preparing students for their career paths, only 41% of students and 11% of business leaders shared that view. The skills required to succeed in the workforce are evolving at a pace that's nearly impossible for universities to learn, develop a curriculum, and deliver that curriculum to students before the skills are obsolete.
The learning curriculum of the future will need to be taught in a way that persists across new and uncertain contexts. Instead of teaching black and white technical skills, students will need to learn cross-boundary frameworks for getting work done. For example, instead of learning writing with a particular medium in mind, students can instead learn how to write – whether it's writing an article, social media post, blog post, or video script. When students can move from concrete knowledge collection and retention to learning a loose framework for applying a skill, they can leverage their intellectual horsepower to adapt their skills and thrive in a dynamically changing and uncertain future.
Education Keynote Testimonials
"Chad was a keynote speaker for one of our HBS events and his keynote had an extraordinary impact on everyone. He engaged and energized the crowd with a laughter-filled presentation that delivered a high-impact message — earning a standing ovation from the hundreds of business leaders in attendance. His thought-provoking stories challenged each of us to think differently about dealing with adversity, navigating change, and nurturing resilient mindsets — all key ingredients for leaders currently guiding their organizations through the Digital transformation."
— Harvard Business School
"Awesome presentation yesterday at the closing session…totally rejuvenated after hearing you."
— Kansas Association of School Boards
Keynote Speaker For Educational Organizations
Every industry is being pushed into change, in some cases faster than they prefer. Few industries have dealt with the significant pace of change that has occurred in the education sector. In his education-oriented keynote addresses, Chad shares with audiences how to embrace the rapid pace of change in this industry with humor and excitement while discussing the unique technological challenges facing the industry,brought about in part by COVID, with proven techniques on how to embrace change and make it work for your business, as well as the significant opportunities that have come about from the disruption in the industry.
Inquire About Speaking
To inquire about speaking, call 855-GET-CHAD and press Option 1 to connect with Stephen Kirkpatrick at Executive Speakers Bureau.
Already Confirmed Pricing and Availability?
Submit your event details using the Pre-program questionnaire.
Business Keynote Speaker
Identifying a keynote speaker with corporate experience is important as audiences face an onslaught of challenges. As a Keynote speaker and business leader, Chad E. Foster has extensive experience leading corporate teams and speaking at events and conventions for a number of leading companies in the corporate arena, including Google and Salesforce.
Industries throughout the world are experiencing unprecedented disruption due to a number of factors. Digital transformation is affecting all sectors of the economy, and the recent global pandemic has reshaped how we transact, go to market, and work – even how we live our daily lives.
Given the velocity of change and its impact on commerce, it has never been more important to improve our ability to adapt to changes, shift our mindset, and reinvent ourselves and our businesses.
Adapt and Thrive Amid the Uncertainty
Reinventing oneself and one's organization takes a combination of factors. But one thing we know for sure, having the right tools/technology is not enough. In order for organizations to navigate these uncertainties, it takes an alignment of technology, processes, and people.
Creating a Resilient Culture
So, how can you create a culture that prepares your people to deal with the onslaught of changes coming at them? Empowering associates to thrive in change isn't easy but it's not impossible either.
It starts with creating a culture that's prepared to turn obstacles into opportunities so you can take advantage of your disadvantages. So how can we take advantage of our disadvantages?
Case in Point
One such example in the business world may be found in the retail sector. In 2012 Best Buy was facing intense pricing pressure from online retailers when its new CEO, Hubert Joly, decided to look at its portfolio of brick-and-mortar stores with a fresh set of eyes. Instead of viewing them as a liability, he chose to use them as assets in an innovative business redesign that created the stores-within-a-store model where supply chain partners would invest in retail point of sale storefronts to enhance product and sales expertise for their products, leading to higher customer satisfaction, reduced cost for suppliers, and reduced cost for Best Buy through supplier investments. The company also started using these storefronts as distribution centers in order to beat online retailer delivery times. Had the company thought about its network of stores as just a liability, it would've never been able to reimagine its future and take advantage of its disadvantages.
Unlocking your organization's possibilities starts with influencing the mindset of every individual in your organization, so you can leverage the collective potential of each person. The power lies in having an organization of forward thinkers who can reimagine ways of doing business in a differentiated way.
Individual Mindset and Company Culture
We know that Our mindset affects the language we use and the actions we take. Knowing that holds true for each individual, the collective behaviors of our organization are affected by the way each individual thinks and acts.
So, if we want a resilient company culture, we need a workforce made up of resilient individuals, which is why it's so crucial to influence how each person in your organization thinks about navigating change, turning obstacles into opportunities, and reaching their full potential – so your business can reach its full potential.
Get a Free Chapter from Chad's New Book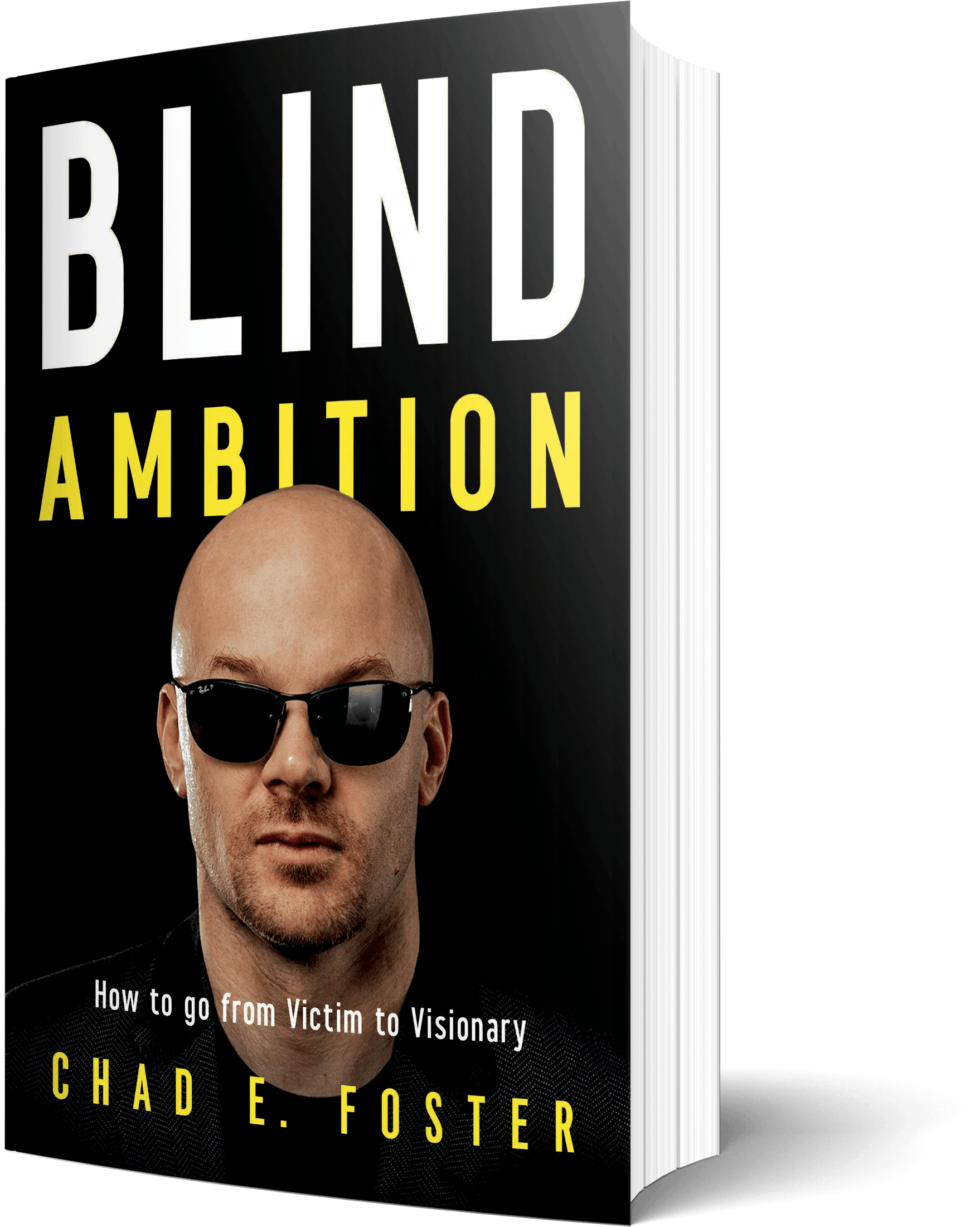 Blind Ambition™
If you don't feel like you're reaching the levels of happiness that you see others enjoy, or your goals seem out of reach, you're not alone. Life is too short for regrets. Learn how to use your mindset to reach your most daring dreams. Chad's stories and lessons will inspire, empower, and prepare you to face uncertainty with hope and optimism. Want to be mentally tough, strong, resilient and prepared to adapt and thrive in changing circumstances? Self-confident to become your best you? It's time to break free from the self-destructive thoughts that hold you back.
Ready To Turn Your Biggest Obstacle Into Your Biggest Advantage? The stories we tell ourselves either limit us or propel us towards our goals.