Learn more about Chad's book, Blind Ambition™
Top Quotes for Being Happy
Who doesn't want to live a happier life? And with recent research uncovering the link between happiness and success, who doesn't want to be happier and more successful? If this sounds like you, keep reading to find inspiration from short quotes about how to live a happier and more successful life.
Chad's QUOTES
"Happiness is not a feeling, happiness is not an emotion, happiness is a decision that each of us make every single day when we wake up."
"It's not happiness that brings us gratitude. It's gratitude that brings us happiness. "
"The foundation of happiness is gratitude."
"It's our perspective that determines our happiness, not our circumstances."
"The power lies in your choice. Your choice to be happy, or not."
"You get to decide whether you're a victim, or a visionary."
"We all become our stories. Choose yours wisely."
Other Famous Quotes
"Happiness is when what you think, what you say, and what you do are in harmony."
— MAHATMA GANDHI
"Happiness lies in the joy of achievement and the thrill of creative effort."
— FRANKLIN D. ROOSEVELT
"Adopt the pace of nature: Her secret is patience."
— RALPH WALDO EMERSON
"Resolve to keep happy, and your joy and you shall form an invincible host against difficulties."
— HELEN KELLER
"Be kind whenever possible. It is always possible."
— THE DALAI LAMA
"Action may not always bring happiness, but there is no happiness without action."
— WILLIAM JAMES
"Dream as if you'll live forever, live as if you'll die today."
— JAMES DEAN
"Life is a journey, and if you fall in love with the journey, you will be in love forever."
— PETER HAGERTY
"I've learned that people will forget what you said, people will forget what you did, but people will never forget how you made them feel."
— MAYA ANGELOU
"Much of the stress that people feel doesn't come from having too much to do. It comes from not finishing what they've started.">
— DAVID ALLEN
"We forge the chains we wear in life."
— CHARLES DICKENS
"If you look to others for fulfillment, you will never be fulfilled. If your happiness depends on money, you will never be happy with yourself. Be content with what you have; rejoice in the way things are. When you realize there is nothing lacking, the world belongs to you."
— LAO TZU
"If you want to be happy, set a goal that commands your thoughts, liberates your energy, and inspires your hopes."
— ANDREW CARNEGIE
"The art of living lies less in eliminating our troubles than growing with them."
— BERNARD M. BARUCH
"If you start to think the problem is 'out there,' stop yourself. That thought is the problem."
— STEPHEN R. COVEY
"Happiness is not a station you arrive at, but a manner of traveling."
— MARGARET LEE RUNBECK
"Focus on the journey, not the destination. Joy is found not in finishing an activity but in doing it."
— GREG ANDERSON
"True happiness is not attained through self-gratification, but through fidelity to a worthy purpose."
— HELEN KELLER
"Blessed are those who can give without remembering and take without forgetting."
— BERNARD MELTZER
"Reflect upon your present blessings, of which every man has many–not on your past misfortunes, of which all men have some."
— CHARLES DICKENS
"Even a happy life cannot be without a measure of darkness, and the word happy would lose its meaning if it were not balanced by sadness. It is far better to take things as they come along with patience and equanimity."
— CARL JUNG
"He who lives in harmony with himself lives in harmony with the universe."
— MARCUS AURELIUS
"When one door of happiness closes, another opens, but often we look so long at the closed door that we do not see the one that has been opened for us."
— HELEN KELLER
"Happiness is not having what you want. It is appreciating what you have."
— UNKNOWN
"Most of us are just about as happy as we make up our minds to be."
— WILLIAM ADAMS
"Success is getting what you want. Happiness is wanting what you get."
— DALE CARNEGIE
"We make a living by what we get, we make a life by what we give."
— WINSTON CHURCHILL
"Money doesn't bring happiness and creativity. Your creativity and happiness brings money."
— SAM ROSEN
"Everything that irritates us about others can lead us to an understanding of ourselves."
— CARL JUNG
"God, grant me the serenity to accept the things I cannot change, the courage to change the things I can, and the wisdom to know the difference."
— REINHOLD NIEBUHR
"Gratitude unlocks the fullness of life. It turns what we have into enough, and more. It turns denial into acceptance, chaos to order, confusion to clarity. It can turn a meal into a feast, a house into a home, a stranger into a friend. Gratitude makes sense of our past, brings peace for today, and creates a vision for tomorrow."
— MELODY BEATTIE
"There is no stress in the world, only people thinking stressful thoughts and then acting on them."
— DR. WAYNE DYER
"Success at the highest level comes down to one question: Can you decide that your happiness can come from someone else's success?"
— BILL WALTON
"Think of what you have rather than of what you lack. Of the things you have, select the best and then reflect how eagerly you would have sought them if you did not have them."
— MARCUS AURELIUS
"The mind is its own place, and in itself can make a heaven of hell, a hell of heaven."
— JOHN MILTON
"In our daily lives, we must see that it is not happiness that makes us grateful, but the gratefulness that makes us happy."
— ALBERT CLARKE
"You are responsible for your life. You can't keep blaming somebody else for your dysfunction. Life is really about moving on."
— OPRAH WINFREY
"View your life from your funeral, looking back at your life experiences, what have you accomplished? What would you have wanted to accomplish but didn't? What were the happy moments? What were the sad? What would you do again, and what you wouldn't?"
— VICTOR FRANKL
"Far better is it to dare mighty things, to win glorious triumphs–even though checkered by failure–than to rank with those poor spirits who neither enjoy much nor suffer much, because they live in a gray twilight that knows not victory nor defeat."
— THEODORE ROOSEVELT
Keynote Programs
Explore our programs to see which one can help your organization create a workforce of happier associates ready to improve company productivity, sales, and creativity.
Inquire About Speaking
To inquire about speaking, call 855-GET-CHAD and press Option 1 to connect with Brandy Gibson at Executive Speakers Bureau.
Already Confirmed Pricing and Availability?
Submit your event details using the Pre-program questionnaire.
Get a Free Chapter from Chad's Book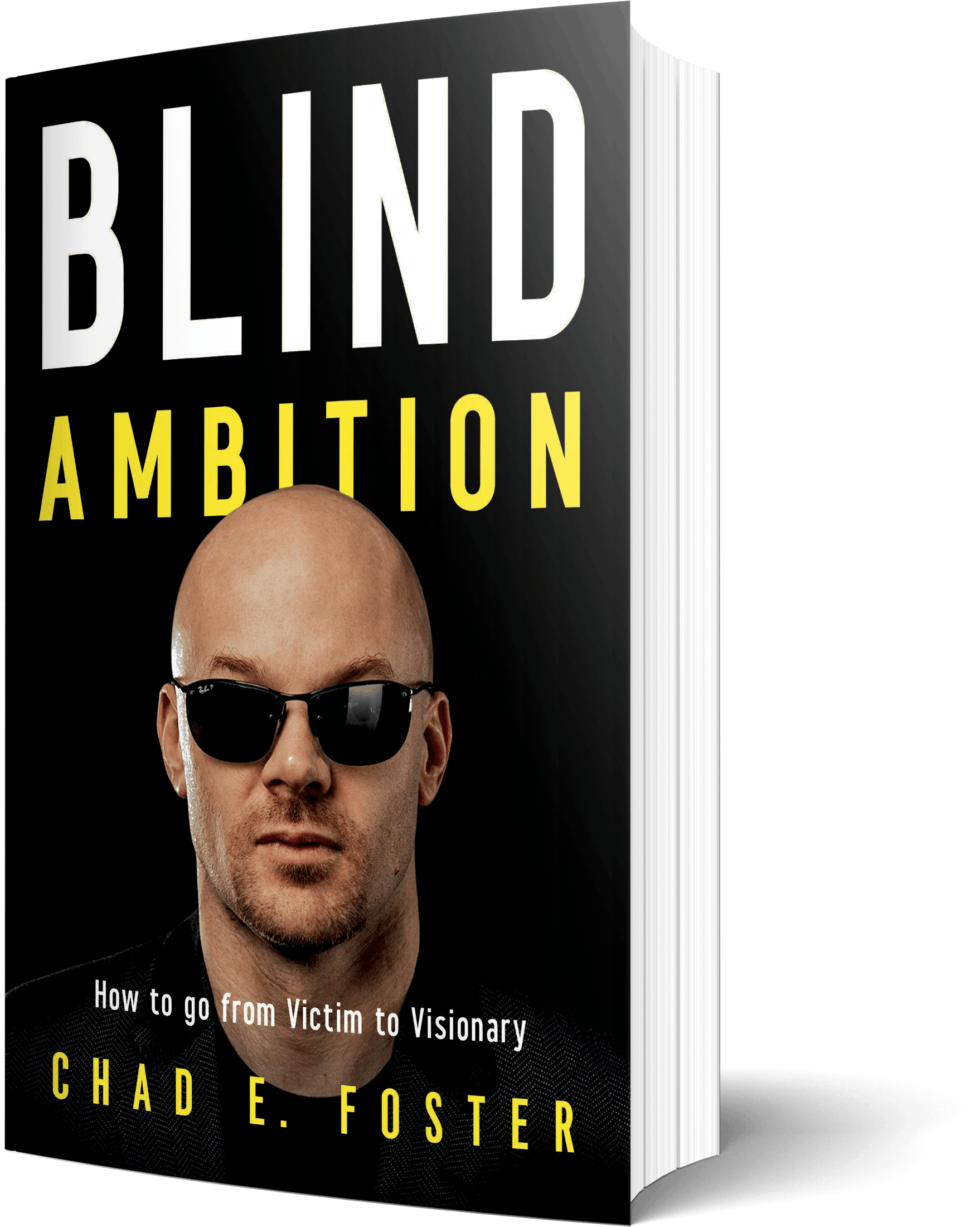 Blind Ambition™
If you don't feel like you're reaching the levels of happiness that you see others enjoy, or your goals seem out of reach, you're not alone. Life is too short for regrets. Learn how to use your mindset to reach your most daring dreams. Chad's stories and lessons will inspire, empower, and prepare you to face uncertainty with hope and optimism. Want to be mentally tough, strong, resilient and prepared to adapt and thrive in changing circumstances? Self-confident to become your best you? It's time to break free from the self-destructive thoughts that hold you back.
Ready To Turn Your Biggest Obstacle Into Your Biggest Advantage? The stories we tell ourselves either limit us or propel us towards our goals.