Learn more about Chad's new book, Blind Ambition™
Keynote Speaker for Small Business
High-impact keynote programs for small business organisations
Inquire About Speaking
Chad has been featured on Keynote Speaker for Small Business
Are you looking for a keynote speaker who has experience speaking to and working with small businesses? Would it help if your keynote speaker was also an entrepreneur? As an entrepreneur and keynote speaker, Chad E. Foster has delivered high-impact keynote programs at events and conventions for a number of small business organizations , such as the Young Presidents Organization and the Entrepreneurs Organization.
The Great Resignation that began following the global pandemic is creating a growing number of entrepreneurs. Discovering that life is short and tomorrow is not guaranteed, many have started their own businesses in pursuit of their passion. It stands to reason that these motivated, mission-driven innovators pursuing their passions will spark an incredible wave of innovation in the coming years.
Commercial Office Space
With people migrating to entrepreneurial ventures in droves, and the recent work-from-home (WFH) trend unlocking commercial office space, entrepreneurs have many options and negotiating leverage when and if they decide for a physical office facility. However, tools such as virtual meeting technology, 5G connectivity, augmented reality, and cloud computing are making it easier to reduce the use of physical meeting spaces – accommodating work-from home (WFH) or hybrid work arrangements.
Work/Life Balance
And with many companies farming out time-consuming work such as social media management, content strategy, and market research to entrepreneurs and sole proprietors, the confluence of events have made it possible for entrepreneurs to become digital nomads – living and working across borders, moving from city to city and country to country. Covid has taught us that there's more than one way and place to get work done, and retaining the best talent requires empowering others to live where and how they want. The most important factor is keeping engaged, motivated associates happy and fulfilled so they can do their best work.
Supply Chain Risks
IN addition, very few could've imagined the vulnerabilities in the global supply chain that Covid exposed. While some organizations are using technology to instrument and mirror their supply chain linkages, others are turning to local businesses to hedge the risk of using overseas vendors and shipping companies.
Marketing
For marketing, micro-influencers have become the modern way to engage target audiences. Micro-influencers typically have less than 25,000 followers so they're highly engaged and operate within extremely focused niche areas. It seems that the days of big name celebrity endorsers serving as the end-all-be-all are coming to an end. IN fact, studies have shown that 92% of customers prefer micro-influencer endorsements over celebrity ad campaigns, and more than 82% make a buying decision based on micro-influencer recommendations.
Shifting Business Models
And as is the case for the commercial landscape at large, businesses are shifting towards subscription business models. These ongoing monthly, annual, or multi-year arrangements allow businesses to stay connected with their customers, track metrics, and more predictably forecast revenue and related planning activities.
Small Business Keynote Testimonials
"Chad E. Foster  is as authentic as they come. He could have easily gone the other way but instead when he lost his vision, he decided to use it to show people that you decide your story, not the life events we go through. Happiness is a decision we make every day when we wake up. His positive spin on life with a no bs attitude is something we can all benefit from. He raises the question of "is being in the dark & losing your vision a blessing?" For him, it seems like it may have been! He is very relatable and good at what he does. Highly recommend him for any business/professional event."
— YPO
"Outstanding! Just outstanding. I have been the Learning Chair for our Entrepreneur Organization Chapter for the last two years. They are a very tough crowd. Chad had every single person moved beyond words. He has been the first to get a standing ovation from this group in years. Every single person in the audience walked away being inspired, motivated and empowered, from a father of two who are struggling with anxiety to a CEO of major, game changing organizations. My recommendation for having Chad at your next event could not be any higher! Find your Blind Ambition."
— EO
Small Business Keynote Speaker
Every industry is being pushed into change, in some cases faster than they prefer. Small businesses are witnessing and sometimes setting the pace of change across the economy. In his small business-oriented keynote addresses, Chad shares with audiences how to embrace the rapid pace of change in this industry with humor and excitement while discussing the unique technological challenges facing the industry, proven techniques on how to embrace change and make it work for your business, and the significant opportunities that have come about from the disruption of rapid change.
Inquire About Speaking
To inquire about speaking, call 855-GET-CHAD and press Option 1 to connect with Stephen Kirkpatrick at Executive Speakers Bureau.
Already Confirmed Pricing and Availability?
Submit your event details using the Pre-program questionnaire.
Business Keynote Speaker
Identifying a keynote speaker with corporate experience is important as audiences face an onslaught of challenges. As a Keynote speaker and business leader, Chad E. Foster has extensive experience leading corporate teams and speaking at events and conventions for a number of leading companies in the corporate arena, including Google and Salesforce.
Industries throughout the world are experiencing unprecedented disruption due to a number of factors. Digital transformation is affecting all sectors of the economy, and the recent global pandemic has reshaped how we transact, go to market, and work – even how we live our daily lives.
Given the velocity of change and its impact on commerce, it has never been more important to improve our ability to adapt to changes, shift our mindset, and reinvent ourselves and our businesses.
Adapt and Thrive Amid the Uncertainty
Reinventing oneself and one's organization takes a combination of factors. But one thing we know for sure, having the right tools/technology is not enough. In order for organizations to navigate these uncertainties, it takes an alignment of technology, processes, and people.
Creating a Resilient Culture
So, how can you create a culture that prepares your people to deal with the onslaught of changes coming at them? Empowering associates to thrive in change isn't easy but it's not impossible either.
It starts with creating a culture that's prepared to turn obstacles into opportunities so you can take advantage of your disadvantages. So how can we take advantage of our disadvantages?
Case in Point
One such example in the business world may be found in the retail sector. In 2012 Best Buy was facing intense pricing pressure from online retailers when its new CEO, Hubert Joly, decided to look at its portfolio of brick-and-mortar stores with a fresh set of eyes. Instead of viewing them as a liability, he chose to use them as assets in an innovative business redesign that created the stores-within-a-store model where supply chain partners would invest in retail point of sale storefronts to enhance product and sales expertise for their products, leading to higher customer satisfaction, reduced cost for suppliers, and reduced cost for Best Buy through supplier investments. The company also started using these storefronts as distribution centers in order to beat online retailer delivery times. Had the company thought about its network of stores as just a liability, it would've never been able to reimagine its future and take advantage of its disadvantages.
Unlocking your organization's possibilities starts with influencing the mindset of every individual in your organization, so you can leverage the collective potential of each person. The power lies in having an organization of forward thinkers who can reimagine ways of doing business in a differentiated way.
Individual Mindset and Company Culture
We know that Our mindset affects the language we use and the actions we take. Knowing that holds true for each individual, the collective behaviors of our organization are affected by the way each individual thinks and acts.
So, if we want a resilient company culture, we need a workforce made up of resilient individuals, which is why it's so crucial to influence how each person in your organization thinks about navigating change, turning obstacles into opportunities, and reaching their full potential – so your business can reach its full potential.
Get a Free Chapter from Chad's New Book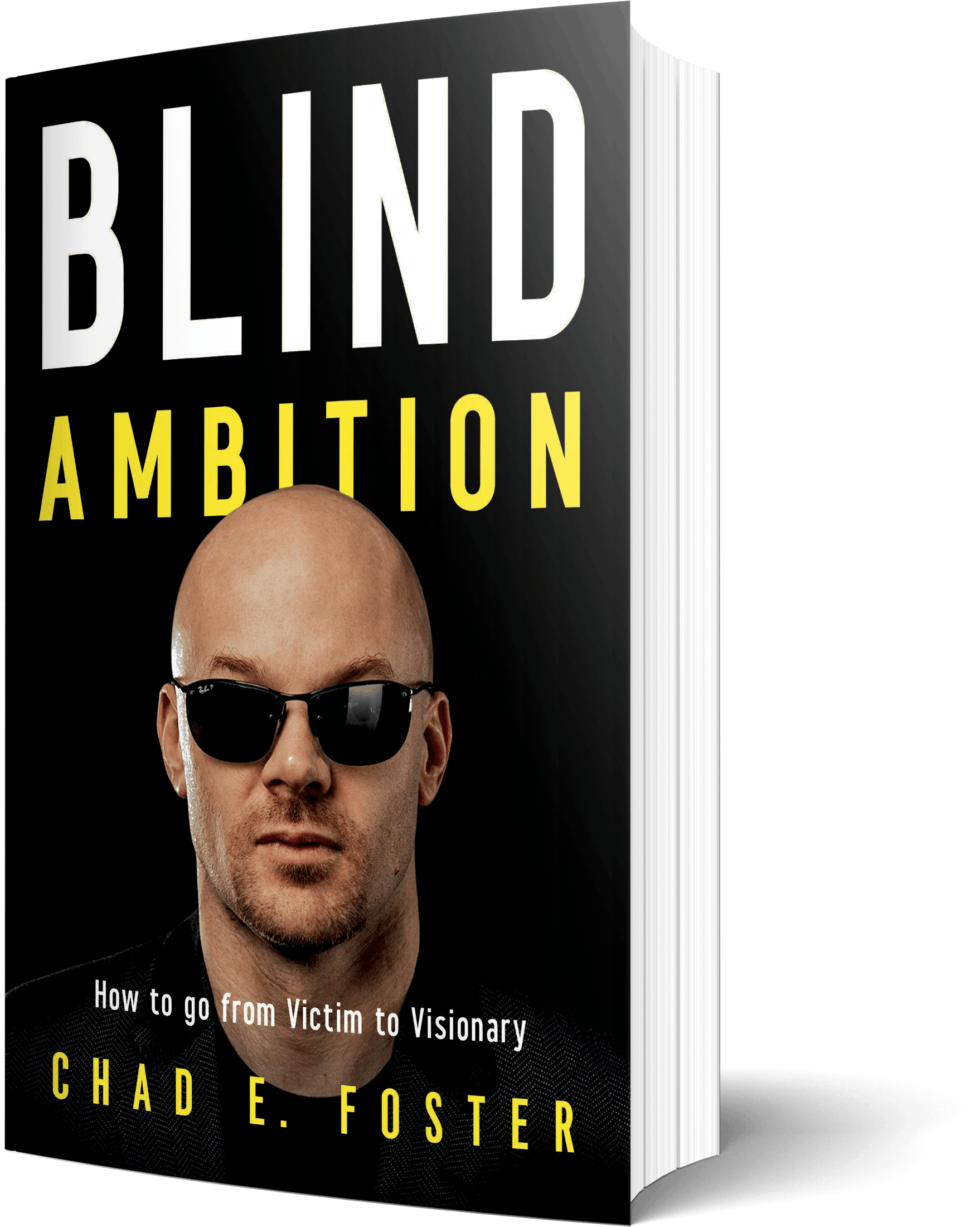 Blind Ambition™
If you don't feel like you're reaching the levels of happiness that you see others enjoy, or your goals seem out of reach, you're not alone. Life is too short for regrets. Learn how to use your mindset to reach your most daring dreams. Chad's stories and lessons will inspire, empower, and prepare you to face uncertainty with hope and optimism. Want to be mentally tough, strong, resilient and prepared to adapt and thrive in changing circumstances? Self-confident to become your best you? It's time to break free from the self-destructive thoughts that hold you back.
Ready To Turn Your Biggest Obstacle Into Your Biggest Advantage? The stories we tell ourselves either limit us or propel us towards our goals.