Learn more about Chad's book, Blind Ambition™
Chad E. Foster
High-Impact Keynote Speaker
As a successful corporate executive, international motivational speaker, and the author of Blind Ambition™, Chad uses his gift of going blind to teach and inspire us to thrive with change, create a more resilient leadership culture, and invite diversity to drive business innovation.
Harvard-educated Executive Dealmaker, Billion$ Generator, Job Creator
Pursue Your Success with Blind Ambition
Change-Disruption-Mindset-Transformation
Are you ready to use adversity to your advantage, and take control of the happiness and success in your life?
Inquire About Speaking
Chad has been featured on




Can you imagine going blind in your early 20's? When most people were preparing for the adventure of adult life, Chad E. Foster was watching the world he grew up with fade to black. But that didn't stop him from becoming the first blind person to graduate from the Harvard Business School leadership program and climbing the corporate ladder as a successful Finance/Sales executive. He works at Red Hat, one of the most innovative Tech companies and the world's largest open source software company. With determination, ambition, and drive, he created what Oracle said would be impossible. He gave hundreds of millions of people the ability to earn a living by becoming the first to create customer relationship software for the visually impaired.
With speaking invites from London to Beijing, and the Atlanta Opera crafting a story inspired by his journey, Chad inspires people to overcome their own blind spots.
Read full bio
To inquire about speaking, call 855-GET-CHAD and press Option 1 to connect with Brandy Gibson at Executive Speakers Bureau.
Already Confirmed Pricing and Availability?
Submit your event details using the Pre-program questionnaire.
Les Brown in Conversation With Chad E Foster Sizzle
---
What is holding you back?
"In Blind Ambition, Chad Foster demonstrates how we can transform our misfortunes into growth opportunities. Chad is a courageous authentic leader who went from victim to visionary, turning his blindness from a disability into an ability to help others overcome their blind spots. Inspiring and deeply personal, this book can transform your life."
"Chad's story is about persistence, strength, and tenacity. For every challenge put in his way, he has found an ingenious and liberating way to overcome it. I witnessed his winning capability firsthand at Red Hat and I'm so glad he is now sharing the lessons he has learned with the world. This is a must read for anyone looking for the motivation to persist in business and life."
"People with disabilities want the privilege to succeed or fail based on their merits, and Chad's powerful story demonstrates that success is indeed possible, even when faced with a significant disability—offering employers a way to tap into an underutilized talent pool."
"Blind Ambition shows us how to build resilience, adapt, and even thrive in the face of adversity. Attitude is everything and Chad's ability to believe that significant life obstacles can propel us to a better version of ourselves is a powerful lesson to us all. I worked closely with Chad for several years and he inspires, excites, and empowers people to embark on their own adventures."
Featured Program
Blind Ambition™
Chad will provide your audience with a framework for thinking that will enable them to:
Live happier lives
Adapt to change with greater success
Lead teams through change
Set ambitious goals while crafting the right mindset to achieve them
Nurture resilience, which is the cornerstone of grit/tenacity and success
Discover unforeseen opportunities
Be more productive at work
View Featured Program
Happiness is not a feeling, happiness is not an emotion, happiness is a decision that each of us make every single day when we wake up.

Chad E. Foster
With speaking invites from London to Beijing, and the Atlanta Opera crafting his journey for the stage, Chad inspires people to overcome their own blind spots.
Lost Eyesight
Lost eyesight and forced to switch college major due to blindness.
First Dog
Received first guide dog.
Dean's List
Relearned how to learn without sight and made the Dean's List.
Graduated College
Graduated with straight-A's in College of Business Administration.
Promotion
Promoted to lead multibillion dollar commercial outsourcing deals in record time.
Software Developed
Developed software thought impossible by Oracle.
New Position
Hired to work on multibillion dollar sales strategy.
New Position
Hired to spearhead most strategic and complex deals.
Promotion
Promoted from Senior Pricing Analyst to Senior Director while capturing over $45 billion in contracts with industry leading growth and best-in-class margins despite tightening market conditions.
Graduated Harvard
First blind person to graduate from Harvard Business School Executive Education leadership program.
Harvard
Voted as graduating speaker for Harvard Business School Executive Education leadership program.
Career Milestone
Led a team that landed largest (9-figure) deal in company history.
Career Milestone
Led a team that redesigned the company's pricing/discounting framework, improving operational efficiency by ~57% while increasing customer satisfaction.
Career Milestone
Tapped to serve as VP in charge of 200-person organization responsible for closing the integration with IBM - a $34 billion purchase that was the largest of its kind.
Published Book
HarperCollins Leadership published Chad's first book - Blind Ambition.
Published Book
Co-authored a book with Les Brown - Ignite the Hunger in You
Life without obstacles removes opportunity for growth.

Chad E. Foster
Get a Free Chapter from Chad's Book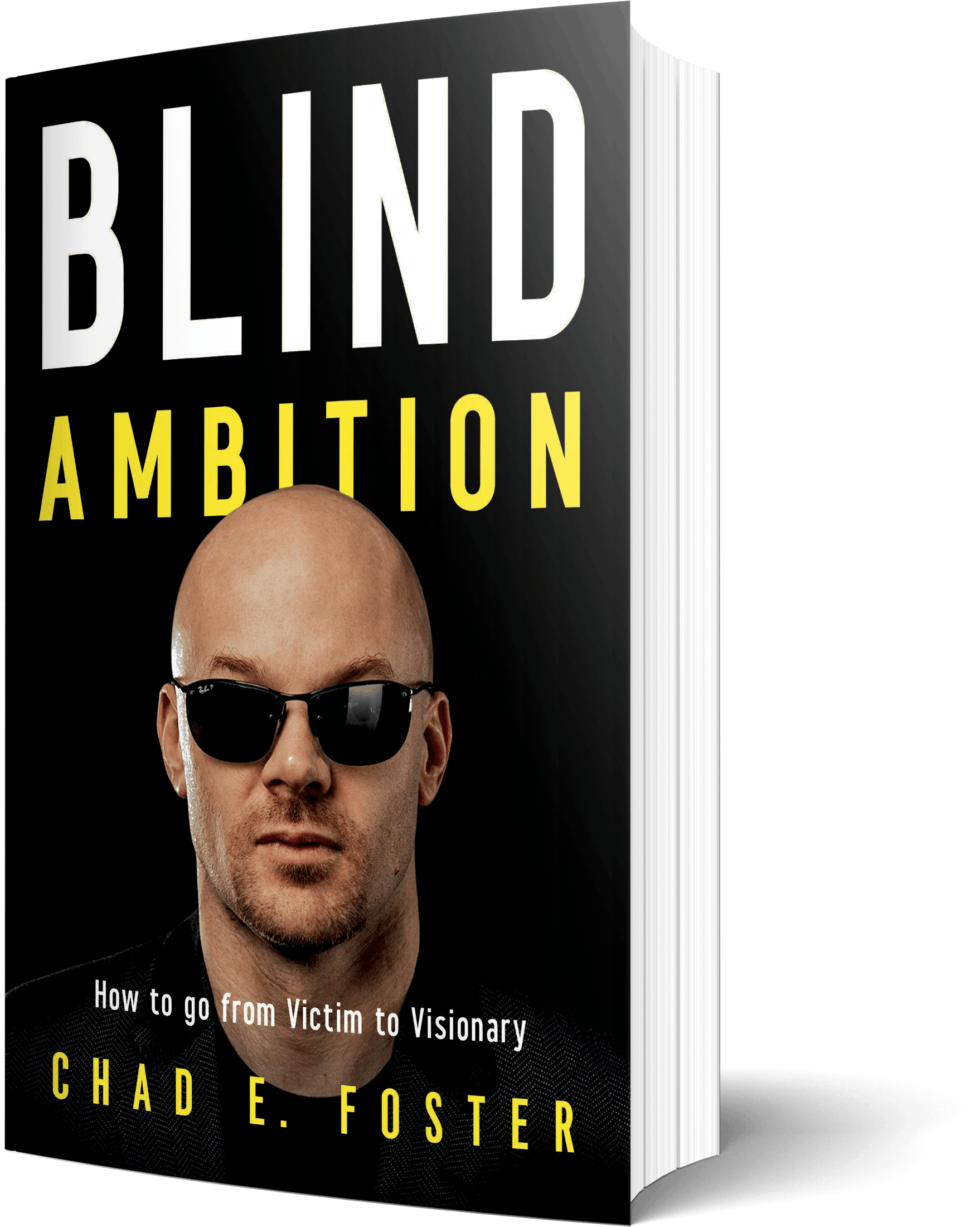 Blind Ambition™
If you don't feel like you're reaching the levels of happiness that you see others enjoy, or your goals seem out of reach, you're not alone. Life is too short for regrets. Learn how to use your mindset to reach your most daring dreams. Chad's stories and lessons will inspire, empower, and prepare you to face uncertainty with hope and optimism. Want to be mentally tough, strong, resilient and prepared to adapt and thrive in changing circumstances? Self-confident to become your best you? It's time to break free from the self-destructive thoughts that hold you back.
Ready To Turn Your Biggest Obstacle Into Your Biggest Advantage? The stories we tell ourselves either limit us or propel us towards our goals.