Learn more about Chad's book, Blind Ambition™
Top Quotes for Achieving Your Goals
Does your motivation to keep charging towards your goals sometimes wane? If it does, you're not alone. We're all human, so it's not uncommon to find greater levels of motivation on certain days compared to others. Keep reading below to find inspirational quotes that can help you stay motivated on your down days.
Chad's QUOTES
"Excuses are for losers."™
"How much time do you spend looking for good and maybe even legitimate reasons to fail?"
"Is it better to comfort yourself in the moment with an excuse, or to hold yourself accountable so you can achieve your goals and dreams?"
"None of us are responsible for all of our circumstances, but we have to be accountable for our life and its outcomes."
"It's my life, I have to own it. It's your life, you have to own it."
"Don't let other people define your vision of your future."
"Success is not an event. It's a mindset."
"Are you willing to accept less than your goal? If you are, then you should expect failure."
"Nobody gets a do over. The truth is, our greatest obstacles present the most opportunity."
"You have to take advantage of your disadvantages."
Other Famous Quotes
"If you're bored with life – you don't get up every morning with a burning desire to do things – you don't have enough goals."
– LOU HOLTZ
"If you don't know where you are going, you will probably end up somewhere else."
– LAWRENCE J. PETER
"Shoot for the moon. Even if you miss, you'll land among the stars."
– LES BROWN
"Never quit. It is the easiest cop-out in the world. Set a goal and don't quit until you attain it. When you do attain it, set another goal, and don't quit until you reach it. Never quit."
– BEAR BRYANT
"A goal is not always meant to be reached; it often serves simply as something to aim at."
– BRUCE LEE
"The great danger for most of us lies not in setting our aim too high and falling short; but in setting our aim too low, and achieving our mark."
– MICHELANGELO
"If you aim at nothing, you will hit it every time."
– ZIG ZIGLAR
"Obstacles are those frightful things you see when you take your eyes off your goal."
– HENRY FORD
"Impossible is just a word thrown around by small men who find it easier to live in the world they've been given than to explore the power they have to change it. Impossible is not a fact. It's an opinion. Impossible is potential. Impossible is temporary. Impossible is nothing."
– MUHAMMAD ALI
"If you have built castles in the air, your work need not be lost; that is where they should be. Now put the foundations under them."
– HENRY DAVID THOREAU
"Be practical as well as generous in your ideals. Keep your eyes on the stars, but remember to keep your feet on the ground."
– THEODORE ROOSEVELT
"You measure the size of the accomplishment by the obstacles you have to overcome to reach your goals."
— BOOKER T. WASHINGTON
"We hold ourselves back in ways both big and small, by lacking self-confidence, by not raising our hands, and by pulling back when we should be leaning in."
— SHERYL SANDBERG
"Some failure in life is inevitable. It is impossible to live without failing at something, unless you live so cautiously that you might as well not have lived at all – in which case, you fail by default."
— J.K. ROWLING
"You don't learn to walk by following the rules. You learn by doing, and falling over."
— RICHARD BRANSON
"A person should set his goals as early as he can and devote all his energy and talent to getting there. With enough effort, he may achieve it. Or he may find something that is even more rewarding. But in the end, no matter what the outcome, he will know he has been alive."
— WALT DISNEY
"The future rewards those who press on. I don't have time to feel sorry for myself. I don't have time to complain. I'm going to press on."
— BARACK OBAMA
"To sit back and let fate play its hand out and never influence it is not the way man was meant to operate."
— JOHN GLENN
"If something is important enough, even if the odds are against you, you should still do it."
— ELON MUSK
"If you're not stubborn, you'll give up on experiments too soon. And if you're not flexible, you'll pound your head against the wall and you won't see a different solution to a problem you're trying to solve."
— JEFF BEZOS
"Do the one thing you think you cannot do. Fail at it. Try again. Do better the second time. The only people who never tumble are those who never mount the high wire. This is your moment. Own it."
— OPRAH WINFREY
"I fear failure, but I won't let it stop me. Sometimes you just got to do it or else it just doesn't happen."
— MARK CUBAN
"Sometimes, I shake if I have to do something that I've never done before –– maybe not noticeably, but inside. But I'll do it, because I know it's not an insurmountable task; I've done plenty of tasks in my life."
— MARTHA STEWART
"Envision, create, and believe in your own universe, and the universe will form around you."
— TONY HSIEH
"I think goals should never be easy, they should force you to work, even if they are uncomfortable at the time."
— MICHAEL PHELPS
"I know how it looks. But just start. Nothing is insurmountable."
— LIN-MANUEL MIRANDA
"If you want to live a happy life, tie it to a goal, not to people or things."
— ALBERT EINSTEIN
"It always seems impossible until it's done."
— NELSON MANDELA
"You can only become truly accomplished at something you love. Don't make money your goal. Instead, pursue the things you love doing, and then do them so well that people can't take their eyes off you."
— MAYA ANGELOU
"Success consists of going from failure to failure without loss of enthusiasm."
— WINSTON CHURCHILL
"Hustling is putting every minute and all your effort into achieving the goal at hand. Every minute needs to count."
— GARY VAYNERCHUK
"I have not failed. I've just found 10,000 ways that won't work."
— THOMAS EDISON
"To win big, you sometimes have to take big risks."
— BILL GATES
"Instead of looking at the past, I put myself ahead twenty years and try to look at what I need to do now in order to get there then."
— DIANA ROSS
"To live a fulfilled life, we need to keep creating the "what is next", of our lives. Without dreams and goals there is no living, only merely existing, and that is not why we are here."
— MARK TWAIN
Keynote Programs
Explore our programs to see which one can help your organization create a success mindset to achieve and surpass your organizational goals.
Inquire About Speaking
To inquire about speaking, call 855-GET-CHAD and press Option 1 to connect with Brandy Gibson at Executive Speakers Bureau.
Already Confirmed Pricing and Availability?
Submit your event details using the Pre-program questionnaire.
Get a Free Chapter from Chad's Book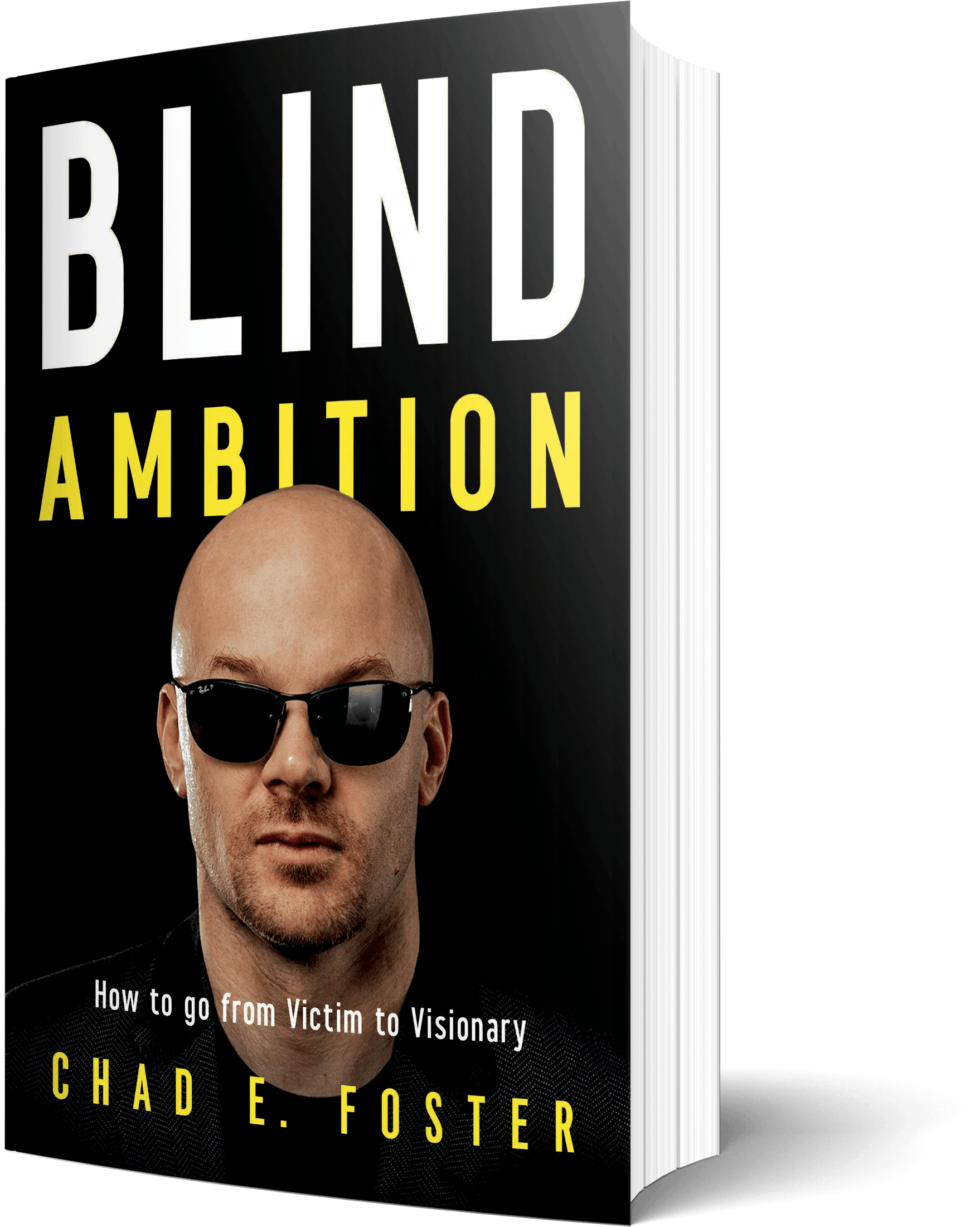 Blind Ambition™
If you don't feel like you're reaching the levels of happiness that you see others enjoy, or your goals seem out of reach, you're not alone. Life is too short for regrets. Learn how to use your mindset to reach your most daring dreams. Chad's stories and lessons will inspire, empower, and prepare you to face uncertainty with hope and optimism. Want to be mentally tough, strong, resilient and prepared to adapt and thrive in changing circumstances? Self-confident to become your best you? It's time to break free from the self-destructive thoughts that hold you back.
Ready To Turn Your Biggest Obstacle Into Your Biggest Advantage? The stories we tell ourselves either limit us or propel us towards our goals.