Learn more about Chad's new book, Blind Ambition™
Top Leadership Quotes
Whether you're looking to inspire your team to reach its full potential, or looking for some wisdom so you can step into your best tself, it's always helpful knowing what other great leaders used as motivation. Keep reading to gain valuable insights from top leadership quotes.
Chad's QUOTES
"Leadership is about inspiring discretionary effort."
"Managing is the organization of work. Leadership is inspiring the best in your team to get that work done."
"Innovative leadership is not doing what others think you should do. It's doing what you know you can achieve, and leading others to do the same."KT
"Leadership is caring for someone enough to hold them accountable so they can achieve their best results."
"The responsibility of a leader is to interpret a situation and set context for their team. Create the narrative for their team – set context, and attach meaning to the circumstances for their team, so each member can internalize it in a productive way."
Other Famous Quotes
"No man will make a great leader who wants to do it all himself, or to get all the credit for doing it."
— ANDREW CARNEGIE
"Leadership is the art of getting someone else to do something you want done because he wants to do it."
— GENERAL DWIGHT EISENHOWER
"As we look ahead into the next century, leaders will be those who empower others."
— BILL GATES
"The role of leaders is not to get other people to follow them but to empower others to lead."
— BILL GEORGE
"Do what you feel in your heart to be right–for you'll be criticized anyway."
— ELEANOR ROOSEVELT
"Don't necessarily avoid sharp edges. Occasionally they are necessary to leadership."
— DONALD RUMSFELD
"Successful leadership takes conscious development and requires being true to your life story."
— BILL GEORGE
"You manage things; you lead people."
— REAR ADMIRAL GRACE MURRAY HOPPER
"Never tell people how to do things. Tell them what to do and they will surprise you with their ingenuity."
— GENERAL GEORGE PATTON
"Lead me, follow me, or get out of my way."
— GENERAL GEORGE PATTON
"Before you are a leader, success is all about growing yourself. When you become a leader, success is all about growing others."
— JACK WELCH
"The reality is that no one can be authentic by trying to be like someone else. There is no doubt you can learn from their experiences, but there is no way you can be successful trying to be like them. People trust you when you are genuine and authentic, not an imitation."
— BILL GEORGE
"Leadership is lifting a person's vision to high sights, the raising of a person's performance to a higher standard, the building of a personality beyond its normal limitations."
— PETER DRUCKER
"The nation will find it very hard to look up to the leaders who are keeping their ears to the ground."
— WINSTON CHURCHILL
"I start with the premise that the function of leadership is to produce more leaders, not more followers."
— RALPH NADER
"They (Authentic Leaders) are more interested in empowering the people they lead to make a difference than they are in power, money, or prestige for themselves."
— BILL GEORGE
"Effective leadership is not about making speeches or being liked; leadership is defined by results not attributes."
— PETER DRUCKER
"The best executive is the one who has sense enough to pick good men to do what he wants done, and self-restraint enough to keep from meddling with them while they do it."
— THEODORE ROOSEVELT
"When I give a minister an order, I leave it to him to find the means to carry it out."
— NAPOLEON BONAPARTE
"Men make history and not the other way around. In periods where there is no leadership, society stands still. Progress occurs when courageous, skillful leaders seize the opportunity to change things for the better."
— HARRY S. TRUMAN
"People buy into the leader before they buy into the vision."
— JOHN C. MAXWELL
"The art of leadership is saying no, not saying yes. It is very easy to say yes."
— TONY BLAIR
"The challenge of leadership is to be strong, but not rude; be kind, but not weak; be bold, but not bully; be thoughtful, but not lazy; be humble, but not timid; be proud, but not arrogant; have humor, but without folly."
— JIM ROHN
"Outstanding leaders go out of their way to boost the self-esteem of their personnel. If people believe in themselves, it's amazing what they can accomplish."
— SAM WALTON
"A true leader has the confidence to stand alone, the courage to make tough decisions, and the compassion to listen to the needs of others. He does not set out to be a leader, but becomes one by the equality of his actions and the integrity of his intent."
— DOUGLAS MACARTHUR
"Effective leadership is putting first things first. Effective management is discipline, carrying it out."
— STEPHEN R. COVEY
"Great leaders are almost always great simplifiers, who can cut through argument, debate, and doubt to offer a solution everybody can understand."
— GENERAL COLIN POWELL
"If your actions inspire others to dream more, learn more, do more and become more, you are a leader."
— JOHN QUINCY ADAMS
"In matters of style, swim with the current; in matters of principle, stand like a rock."
— THOMAS JEFFERSON
"It is better to lead from behind and to put others in front, especially when you celebrate victory when nice things occur. You take the front line when there is danger. Then people will appreciate your leadership."
— NELSON MANDELA
"Leaders aren't born, they are made. And they are made just like anything else, through hard work. And that's the price we'll have to pay to achieve that goal, or any goal."
— VINCE LOMBARDI
"Leadership and learning are indispensable to each other."
— JOHN F. KENNEDY
"No man is good enough to govern another man without that other's consent."
— ABRAHAM LINCOLN
"A good plan violently executed now is better than a perfect plan executed next week."
– GENERAL GEORGE PATTON
"Earn your leadership every day."
– MICHAEL JORDAN
"Do not follow where the path may lead. Go instead where there is no path and leave a trail."
— RALPH WALDO EMERSON
"People don't care how much you know until they know how much you care"
— THEODORE ROOSEVELT
"The greatest leader is not necessarily the one who does the greatest things. He is the one that gets the people to do the greatest things."
— RONALD REAGAN
"Treat people as if they were what they ought to be, and you help them become what they are capable of being."
— JOHANN WOLFGANG VON GOETHE
"Management is doing things right; leadership is doing the right thing."
— PETER DRUCKER
"Nearly all men can stand adversity, but if you want to test a man's character, give him power."
— ABRAHAM LINCOLN
Keynote Programs
Explore our programs to see which one can help your organization create a culture that unleashes leadership potential to maximize individual and company performance.
Inquire About Speaking
To inquire about speaking, call 855-GET-CHAD and press Option 1 to connect with Stephen Kirkpatrick at Executive Speakers Bureau.
Already Confirmed Pricing and Availability?
Submit your event details using the Pre-program questionnaire.
Get a Free Chapter from Chad's New Book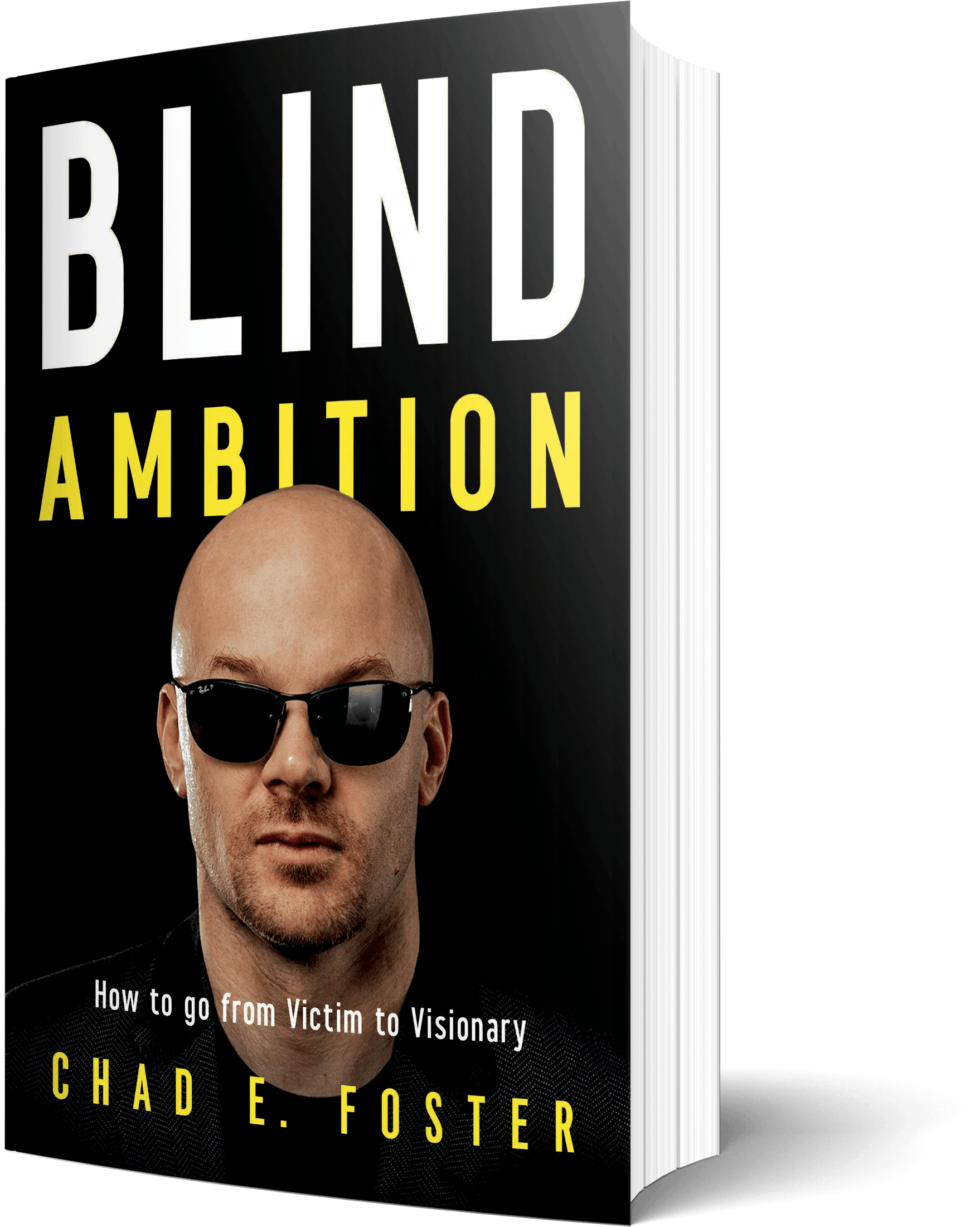 Blind Ambition™
If you don't feel like you're reaching the levels of happiness that you see others enjoy, or your goals seem out of reach, you're not alone. Life is too short for regrets. Learn how to use your mindset to reach your most daring dreams. Chad's stories and lessons will inspire, empower, and prepare you to face uncertainty with hope and optimism. Want to be mentally tough, strong, resilient and prepared to adapt and thrive in changing circumstances? Self-confident to become your best you? It's time to break free from the self-destructive thoughts that hold you back.
Ready To Turn Your Biggest Obstacle Into Your Biggest Advantage? The stories we tell ourselves either limit us or propel us towards our goals.