Learn more about Chad's book, Blind Ambition™
No More Comfort Zones
Growth Through Adversity
Harvard-educated Executive Dealmaker, Billion$ Generator, Job Creator
Change-Disruption-Mindset-Transformation
Grit-Resilience-Accountability-Growth Through Adversity
Inquire About Speaking
What Makes Chad Different?
The current rate of change is ERODING people's resilience, grit, and commitment, leading to higher levels of anxiety, burnout, and attrition. The loss of organizational talent and resilience have created chronic organizational underperformance that affects internal productivity, as well as the value organization's are able to provide to customers. As a result, organizations are falling behind, and are blind to the massive opportunities created by disruption.
Many thought leaders on resilience and change offer platitudes that create zero sustained impact on people's behavior. Due to Chad's firsthand experience with personal difficulty and building enterprise value, Chad understands the anatomy of resilience at a practical level — providing tried and tested tools that empower people to emerge from setbacks stronger, sleeker, and resolute to succeed.
Connecting inspiration to implementation™, Chad enables your team to embody the mindsets and beliefs for success, while adopting the narratives and stories that will change the meaning of the challenges they experience. They'll have the tools to remain comfortable in the face of discomfort, equipping your organization to turn disadvantages into advantages, and your obstacles into opportunities.
Inquire About Speaking
No More Comfort Zones
Life without obstacles removes opportunity for growth. For any of us to grow, we need to step outside our comfort zones. In this powerful keynote, Chad teaches how the obstacles that lie in front of us can propel us towards our goals.
Every organization finds itself face-to-face with problems that seem insurmountable. Beyond Chad's personal path of overcoming overwhelming odds, his business track record for moving through challenges and improving results gives a unique perspective on how comfort zones hold us back.
Chad will talk about how he's not successful in spite of being blind. He is successful because he's blind. He embraced his problem and turned it into a solution. In this session Chad will teach your teams how to realize exponential growth through adversity.
To inquire about speaking, call 855-GET-CHAD and press Option 1 to connect with Brandy Gibson at Executive Speakers Bureau.
Already Confirmed Pricing and Availability?
Submit your event details using the Pre-program questionnaire.
Keynote Speaker
Could anyone in your organization benefit from creating a resilient mindset? Do your teams feel overwhelmed with current business conditions, where it seems like forces outside their control prevent them from making progress? ? In his entertaining and powerful keynotes, Chad shares the critical insights that allowed him to thrive in the face of incredible circumstances. After going blind while at university, he's happier and more successful now than when he could see.
Using his trademark humor and matter-of-fact style, Chad will share his unusual story of overcoming extraordinary personal adversity while achieving remarkable business results. He will leave your audience energized and eager to apply Chad's tools to overcome their own obstacles.
Speaker's Credibility
This is not just another keynote from a handicapped person who overcame difficult circumstances. This is the story, the lessons, and the journey of a person who came to believe "excuses are for losers," and decided to create a better life and a bigger path than he would have had without blindness. Chad E. Foster is a husband, a father, and an avid snow skier (that is not a joke) who is not just competing with his condition, he is competing with the world's most successful people. Chad believes he is not successful in spite of being blind, but rather he is successful because he's blind. He embraced his problem and turned it into a solution.
Big Idea
We all have self-limiting beliefs that prevent us from daring to reach our full potential. Chad's story inspires audiences to overcome their perceived limitations, as he has faced his blindness – relentlessly driving towards their goals. Chad is happier and more successful today, than when he could see. Overcoming the challenges of blindness have improved his vision and perspective, making him more resilient and grateful for the life he has. Chad's unforgettable lessons and perspectives will inspire the audience to explore new possibilities and reach higher for professional success where they once may have only seen obstacles. Chad has found that helping others with the lessons he has learned throughout his journey, actually makes going blind worth it.
Audience Benefits
Chad's keynotes will inspire your teams to achieve world-class performance. He will teach people how to intentionally cultivate resilience in order to adapt and even thrive in the most challenging circumstances. Chad shows how we choose the stories we tell ourselves about our circumstances, which either limit us, or propel us towards our goals.
During these sessions, Chad will also discuss practical strategies on how to internalize and even welcome discomfort, which becomes the catalyst for personal growth. The audience will learn how to face fear, hopelessness, and harsh changes in circumstances with a new mindset, and emerge better and stronger than before. The audience will be inspired by learning how Chad transformed the loss of his eyesight into a gift that accentuated his unique strengths and abilities, allowing him to live happier and more successfully than when he could see.
People will learn how their greatest struggle can become their greatest strength. Chad will inspire everyone to have greater confidence in themselves to perform at their highest potential, as they gain new perspective on what is possible when we shift our mindset, give up making excuses, and decide that we are in charge of who we will become.
In short, you will learn how to live your best life, and become your best you (#YourBestYou).
Organizational Benefits
Chad will motivate your organization to achieve excellence in the face of adversity and attendees will learn how to take charge and accountability for organizational performance. These programs will shape the mindset, words, behaviors, actions, and outcomes for the organizational culture, so people are able to reframe current organizational challenges as opportunities for growth and advancement.
Keynote Topics
Chad will customize any of his three programs to accentuate the following topic areas.
Change Management
The dizzying pace of change in today's marketplace leaves many people feeling like they are unable to keep up. What is getting in their way? IN short, our perspective can often prevent us from dealing with, driving, and even thriving in the changing landscape. Whether it's digital disruption upending traditional business models, unforeseen global health crises, or mergers and acquisitions, the pace of change leaves many people feeling overwhelmed.
Chad has dealt with change on a scale unseen by most. After losing his eyesight in his early 20's, he was forced to embrace a lifestyle that was very different from what he had known. Not only did he embrace the significant change, he is happier and more successful now than ever before. He routinely applies his change management techniques in the business world to continually evolve and succeed regardless of the circumstances.
Leadership
Never has leadership been more important than today. Traditional businesses are being revolutionized and facing new competitive threats, innovations, and disruptions. The companies that survive and thrive are those with superb leadership. After all, your next big idea has a limited shelf life.
How do you create a framework for thriving amid these constant threats? In short, it's all about your leadership culture, which is anchored to the mindsets and behaviors of your leaders.
Sales
Could your teams use some inspiration to meet their challenging sales quotas? In the world of sales, excuses are truly for losers. Either your sales team finds a way to hit their numbers or they do not –even good reasons will not change the outcome and reaction from Wall Street.
Chad's results with sales strategy demonstrate that his personal belief system leads to real-world business outcomes. In this program Chad will help the audience develop accountability for their outcomes, while inspiring them to reach far beyond what they thought possible!
Get a Free Chapter from Chad's Book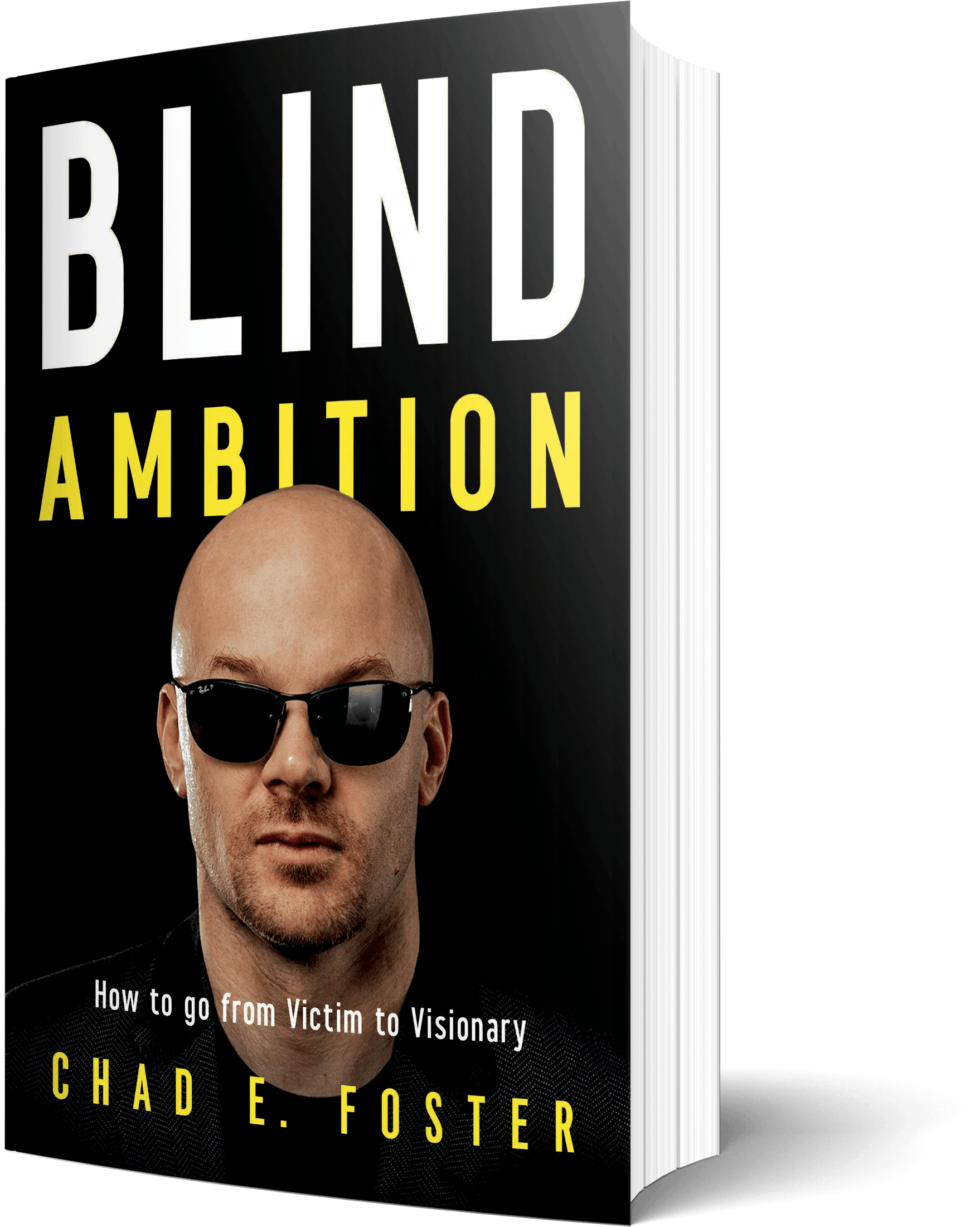 Blind Ambition™
If you don't feel like you're reaching the levels of happiness that you see others enjoy, or your goals seem out of reach, you're not alone. Life is too short for regrets. Learn how to use your mindset to reach your most daring dreams. Chad's stories and lessons will inspire, empower, and prepare you to face uncertainty with hope and optimism. Want to be mentally tough, strong, resilient and prepared to adapt and thrive in changing circumstances? Self-confident to become your best you? It's time to break free from the self-destructive thoughts that hold you back.
Ready To Turn Your Biggest Obstacle Into Your Biggest Advantage? The stories we tell ourselves either limit us or propel us towards our goals.