Learn more about Chad's book, Blind Ambition™
Top Quotes for Overcoming Adversity
We've all faced adversity at some point in our lives and the way we rise to our challenges determines how fulfilled and successful our lives ultimately become. If you're in need of some thought-provoking inspiration to keep you motivated towards your goals then keep reading below.
Chad's QUOTES
"Excuses are for losers."™
"If you're not failing from time to time, you're not aiming high enough."
"Our greatest obstacles present the most opportunity."
"Life without obstacles removes opportunity for growth."
"You have to take advantage of your disadvantages."
"Victims stay trapped, but visionaries bounce back."
"Even if you find a legitimate reason to fail, how does that serve you?"
"Who would you rather be, someone who found good and maybe even legitimate reasons to fail, or someone who found a way to break through your barriers?"
"The biggest influence in your life is you."
"You need to be able to see yourself as successful in the change."
"It's less about our ability, and more about our willingness to try, and our determination to follow through."
"Innovative leadership is not doing what others think you should do. It's doing what you know you can achieve, and leading others to do the same."
Other Famous Quotes
"Always bear in mind that your own resolution to success is more important than any other one thing."
— ABRAHAM LINCOLN
"Success is 99 percent failure."
— SOICHIRO HONDA
"Turn your wounds into wisdom."
— OPRAH WINFREY
"Show me someone who has done something worthwhile, and I'll show you someone who has overcome adversity."
– LOU HOLTZ
"Every adversity, every failure, every heartache carries with it the seed of an equal or greater benefit."
– NAPOLEON HILL
"Rock bottom became the solid foundation in which I built my life."
– J.K. ROWLING
"We don't develop courage by being happy every day. We develop it by surviving difficult times and challenging adversity."
– BARBARA DE ANGELIS
"Character cannot be developed in ease and quiet. Only through experience of trial and suffering can the soul be strengthened, ambition inspired, and success achieved."
– HELLEN KELLER
"Turning feelings into words can help us process and overcome adversity."
– SHERYL SANDBERG
"It is your reaction to adversity, not the adversity itself, that determines how your life story will develop."
– DIETER F. UCHTDORF
"You can't be brave if you've only had wonderful things happen to you."
– MARY TYLER MOORE
"Sometimes adversity is what you need to face in order to become successful."
– ZIG ZIGLAR
"Adversity is preparation for greatness."
– ANDY ANDREWS
"Adversity introduces a man to himself."
– ALBERT EINSTEIN
"Think like a queen. A queen is not afraid to fail."
– OPRAH WINFREY
"I can be changed by what happens to me, but I refuse to be reduced by it."
– MAYA ANGELOU
"If you aren't in over your head, how do you know how tall you are?"
-T.S. ELIOT
"The gem cannot be polished without friction, nor man perfected without trials."
– CHINESE PROVERB
"In the middle of a difficulty lies opportunity."
– ALBERT EINSTEIN
"You never know how strong you are until being strong is your only choice."
– BOB MARLEY
"My attitude is that if you push me towards something that you think is a weakness, then I will turn that perceived weakness into a strength."
– MICHAEL JORDAN
"A hero is an ordinary individual who finds the strength to persevere and endure in spite of overwhelming obstacles."
– CHRISTOPHER REEVE
"Strength does not come from physical capacity. It comes from an indomitable will."
– MAHATMA GANDHI
"Strength does not come from winning. Your struggles develop your strengths. When you go through hardships and decide not to surrender, that is strength."
– MAHATMA GANDHI
"Adversity makes men, and prosperity makes monsters."
– VICTOR HUGO
"Just as we develop our physical muscles through overcoming opposition - such as lifting weights - we develop our character muscles by overcoming challenges and adversity."
– STEPHEN R. COVEY
"You show me anybody that's great in anything they do, I'll show you somebody that's persevered, demonstrated that mental toughness to overcome some obstacles and adversity."
– SEAN MCVAY
"All the adversity I've had in my life, all my troubles and obstacles, have strengthened me… You may not realize it when it happens, but a kick in the teeth may be the best thing in the world for you."
— WALT DISNEY
"Success is to be measured not so much by the position that one has reached in life as by the obstacles which he has overcome."
— BOOKER T. WASHINGTON
"I can't change the direction of the wind, but I can adjust my sails to always reach my destination."
— JIMMY DEAN
"Believe you can and you're halfway there."
— THEODORE ROOSEVELT
"I hated every minute of training, but I said, 'Don't quit. Suffer now and live the rest of your life as a champion.'"
— MUHAMMAD ALI
"Everyone here has the sense that right now is one of those moments when we are influencing the future."
— STEVE JOBS
"In any moment of decision, the best thing you can do is the right thing, the next best thing is the wrong thing, and the worst thing you can do is nothing."
— THEODORE ROOSEVELT
"We make a living by what we get, but we make a life by what we give."
– WINSTON CHURCHILL
Keynote Programs
Explore our programs to see which one can help you cultivate an overcomer mindset to power your organization's growth and results.
Inquire About Speaking
To inquire about speaking, call 855-GET-CHAD and press Option 1 to connect with Brandy Gibson at Executive Speakers Bureau.
Already Confirmed Pricing and Availability?
Submit your event details using the Pre-program questionnaire.
Get a Free Chapter from Chad's Book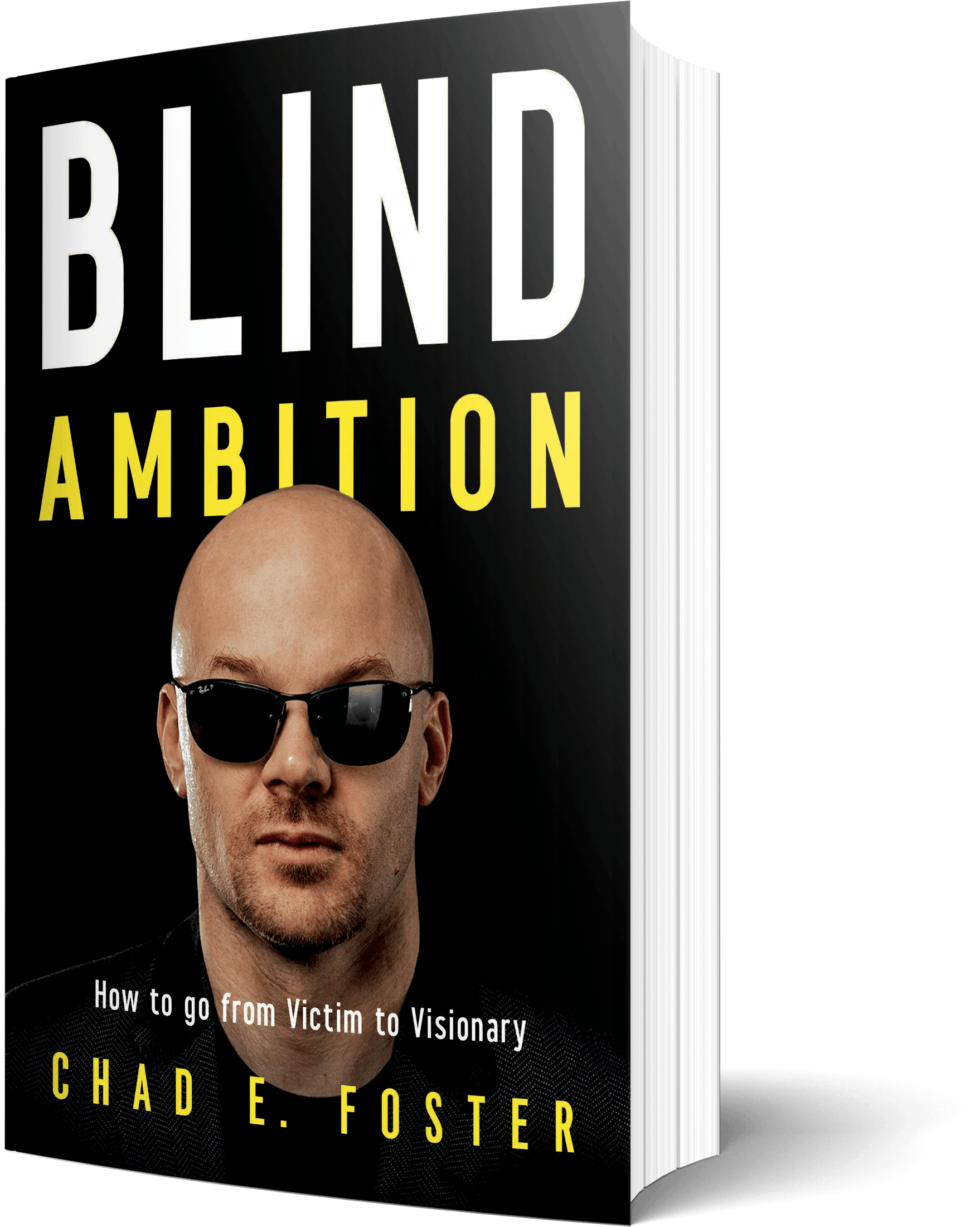 Blind Ambition™
If you don't feel like you're reaching the levels of happiness that you see others enjoy, or your goals seem out of reach, you're not alone. Life is too short for regrets. Learn how to use your mindset to reach your most daring dreams. Chad's stories and lessons will inspire, empower, and prepare you to face uncertainty with hope and optimism. Want to be mentally tough, strong, resilient and prepared to adapt and thrive in changing circumstances? Self-confident to become your best you? It's time to break free from the self-destructive thoughts that hold you back.
Ready To Turn Your Biggest Obstacle Into Your Biggest Advantage? The stories we tell ourselves either limit us or propel us towards our goals.