Learn more about Chad's book, Blind Ambition™
Supercharge Your Sales Kickoff Conference
Harvard-educated Executive Dealmaker, Billion$ Generator, Job Creator
Pursue Your Success with Blind Ambition
Change-Disruption-Mindset-Transformation
Inquire About Speaking
Chad has been featured on Supercharge Your Sales Kickoff Conference
Are you looking to elevate your sales team's performance and drive exceptional results? Would it be helpful to have the inspiration, mindset shift, and tools to break free from the circumstances that are preventing your organization from reaching its full potential? Chad E. Foster is a world-class sales keynote speaker who has helped countless professionals power business outcomes by shifting their mindset, take ownership of their life and their business outcomes, and embrace adversity as an opportunity to grow.
Through his compelling personal story – losing his eyesight at 21-years-old, building software Oracle thought impossible, winning billions in revenue in the business world as a pricing and deal strategist, becoming the first blind executive to graduate Harvard's leadership program, learning how to ski black and even double black diamond terrain, and taking up the martial art of Brazilian Jiu-jitsu (BJJ) – all with his eyes closed – Chad shows your team that they don't have to be limited by their circumstances or their current narrative.
The frenetic pace of disruption, the constant pressure for quarterly results, and the always-on nature of work make it challenging to keep up with the competition while managing the burnout that often bubbles up as we strive for excellence. In today's rapidly evolving business landscape, it's essential to keep your sales force motivated, adaptive, and focused on achieving your organization's goals. Chad E. Foster's powerful keynotes inspire and motivate teams by drawing on his own experiences, delivering a message that transcends sales techniques and strategies.
Why Chad E. Foster?
As a successful sales leader and Harvard Business School graduate, Chad knows firsthand what it takes to overcome adversity, persevere, and excel in the face of challenges. His no-excuses approach to life, five pillars for cultivating resilience, and extensive experience in sales and leadership, all make him the perfect motivational sales keynote speaker for your next sales kickoff (SKO) conference, training event, or corporate gathering.
Chad will dive into the five pillars that have enabled him to thrive in the face of adversity:
CHOOSE YOUR RESPONSE: You can choose your response, your attitude, and your perspective.
TELL YOURSELF THE RIGHT STORIES: You will become your stories, so choose them wisely.
VISUALIZE YOUR GREATNESS: You need to visualize how to make sometimes unpalatable circumstances look good.
GET COMFORTABLE WITH DISCOMFORT: Comfort zones equal complacency – life and growth both happen outside your comfort zone.
TAKE ADVANTAGE OF YOUR DISADVANTAGES: Every disadvantage offers us an advantage if used in the right context. How can you make your disadvantages work for you, instead of against you?
Chad's unique and powerful perspective has led him to be a sought-after opening and closing keynote speaker at numerous sales kickoff conferences and training events, where his engaging keynotes consistently receive rave reviews from attendees. As a sales keynote speaker, corporate leader, and entrepreneur, Chad E. Foster understands the importance of driving sales performance, fostering a winning sales mindset, and overcoming sales challenges.
A Sales Keynote That Transcends Process
While Chad E. Foster is not a specialist in sales process training, his resilience framework and story of perseverance, accountability, and ambition are universal, inspiring sales professionals to unlock their full potential. Chad's sales keynotes focus on the mindset and attitude required to excel in sales, empowering them to overcome their own challenges and strive for success, both professionally and personally.
Some of the key takeaways from Chad's motivational sales keynotes include:
Sales Performance: Chad helps sales teams develop a winning mindset and a relentless drive to excel in their roles, ultimately leading to improved sales performance and revenue generation.
Sales Strategy: Chad shares insights on how to adapt to the ever-changing business landscape, enabling your team to stay ahead of the competition and capitalize on emerging opportunities.
Sales Team Motivation: Chad's compelling story of overcoming adversity and achieving personal and professional success instills a sense of purpose, determination, and motivation in sales teams.
Sales Leadership: Chad's experience as a sales leader provides valuable insights on how to effectively manage, coach, and inspire a high-performing sales team.
Sales Challenges: Discover how to identify and overcome common sales challenges, transforming obstacles into opportunities for growth and success.
Sales Mindset: Chad's inspirational message encourages sales professionals to develop a positive, solutions-focused mindset that enables them to excel in their roles and achieve their goals.
Business Growth: Chad's insights on sales performance, strategy, and leadership contribute to overall business growth, driving success and profitability for your organization.
Inspirational Message: Chad's personal journey serves as a testament to the power of resilience, determination, and a positive mindset, leaving a lasting impact on audiences far beyond the sales kickoff conference.
Book Top Sales Keynote Speaker for Your Next Sales Event
Book Chad E. Foster as a sales keynote speaker to give your team the inspiration and tools they need to excel. His unique blend of sales leadership experience, personal adversity, and dynamic and entertaining sales keynotes will leave your audience energized, empowered, and ready to tackle their sales goals head-on.
Ready to take your sales team's performance to the next level? Book Chad E. Foster for your next sales conference, training event, or corporate gathering today and discover the transformative power of having the perfect sales keynote speaker at your next conference.
Chad's dynamic presentations are tailor-made for each audience, ensuring that your team receives a customized message that resonates with their unique needs and goals. His ability to connect with attendees on a personal level creates an engaging and memorable experience, leaving a lasting impact long after the event has concluded.
Don't miss out on the opportunity to provide your sales team with an unforgettable experience that can propel them towards success. Contact us now to book Chad E. Foster, the sales keynote speaker who will inspire your team to overcome challenges, embrace change, and achieve their full potential. Unlock your team's true potential, and watch as your business grows and thrives.
Inquire About Speaking
To inquire about speaking, call 855-GET-CHAD and press Option 1 to connect with Brandy Gibson at Executive Speakers Bureau.
Already Confirmed Pricing and Availability?
Submit your event details using the Pre-program questionnaire.
Business Keynote Speaker
Identifying a keynote speaker with corporate experience is important as audiences face an onslaught of challenges. As a Keynote speaker and business leader, Chad E. Foster has extensive experience leading corporate teams and speaking at events and conventions for a number of leading companies in the corporate arena, including Google and Salesforce.
Industries throughout the world are experiencing unprecedented disruption due to a number of factors. Digital transformation is affecting all sectors of the economy, and the recent global pandemic has reshaped how we transact, go to market, and work – even how we live our daily lives.
Given the velocity of change and its impact on commerce, it has never been more important to improve our ability to adapt to changes, shift our mindset, and reinvent ourselves and our businesses.
Adapt and Thrive Amid the Uncertainty
Reinventing oneself and one's organization takes a combination of factors. But one thing we know for sure, having the right tools/technology is not enough. In order for organizations to navigate these uncertainties, it takes an alignment of technology, processes, and people.
Creating a Resilient Culture
So, how can you create a culture that prepares your people to deal with the onslaught of changes coming at them? Empowering associates to thrive in change isn't easy but it's not impossible either.
It starts with creating a culture that's prepared to turn obstacles into opportunities so you can take advantage of your disadvantages. So how can we take advantage of our disadvantages?
Case in Point
One such example in the business world may be found in the retail sector. In 2012 Best Buy was facing intense pricing pressure from online retailers when its new CEO, Hubert Joly, decided to look at its portfolio of brick-and-mortar stores with a fresh set of eyes. Instead of viewing them as a liability, he chose to use them as assets in an innovative business redesign that created the stores-within-a-store model where supply chain partners would invest in retail point of sale storefronts to enhance product and sales expertise for their products, leading to higher customer satisfaction, reduced cost for suppliers, and reduced cost for Best Buy through supplier investments. The company also started using these storefronts as distribution centers in order to beat online retailer delivery times. Had the company thought about its network of stores as just a liability, it would've never been able to reimagine its future and take advantage of its disadvantages.
Unlocking your organization's possibilities starts with influencing the mindset of every individual in your organization, so you can leverage the collective potential of each person. The power lies in having an organization of forward thinkers who can reimagine ways of doing business in a differentiated way.
Individual Mindset and Company Culture
We know that Our mindset affects the language we use and the actions we take. Knowing that holds true for each individual, the collective behaviors of our organization are affected by the way each individual thinks and acts.
So, if we want a resilient company culture, we need a workforce made up of resilient individuals, which is why it's so crucial to influence how each person in your organization thinks about navigating change, turning obstacles into opportunities, and reaching their full potential – so your business can reach its full potential.
Get a Free Chapter from Chad's Book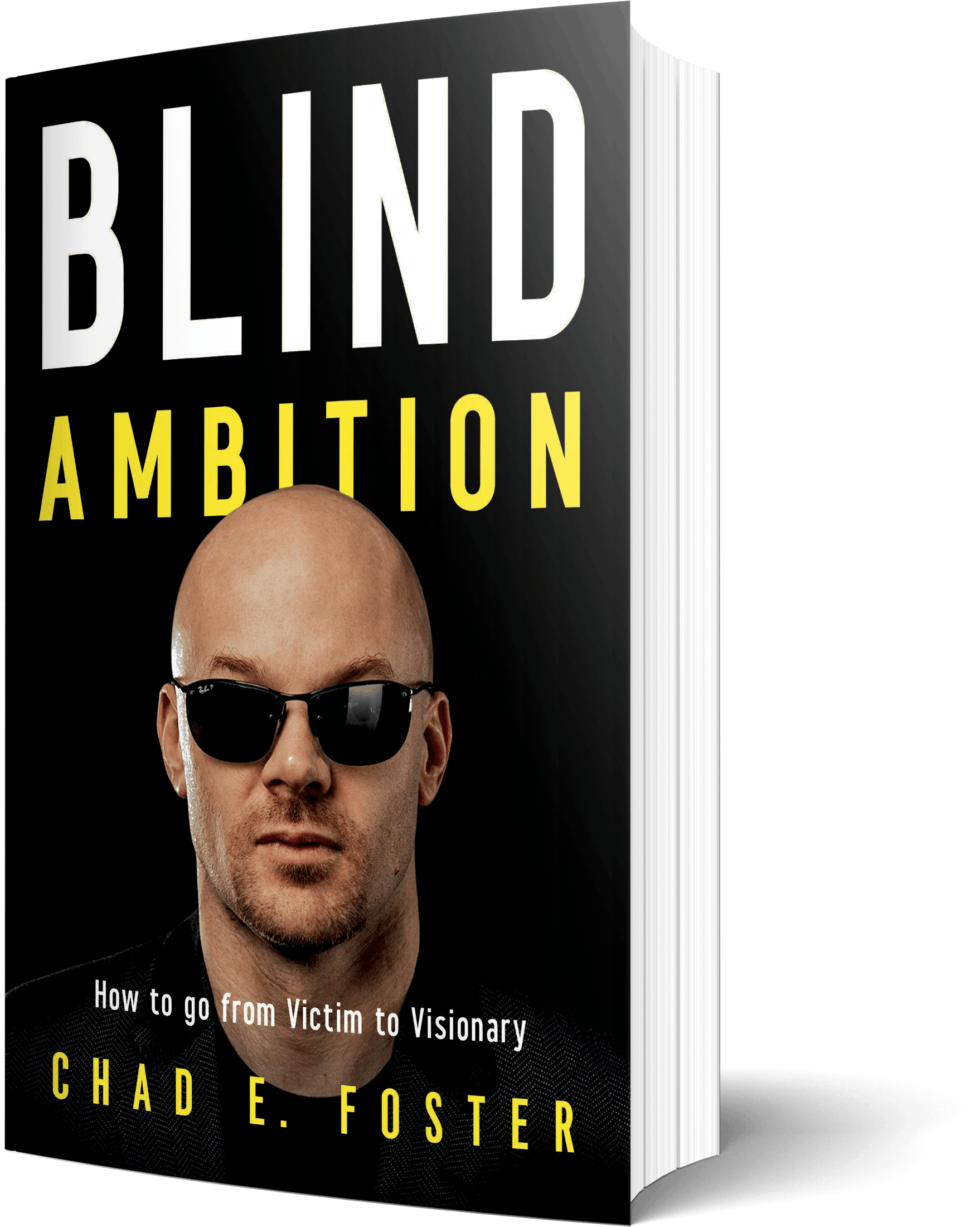 Blind Ambition™
If you don't feel like you're reaching the levels of happiness that you see others enjoy, or your goals seem out of reach, you're not alone. Life is too short for regrets. Learn how to use your mindset to reach your most daring dreams. Chad's stories and lessons will inspire, empower, and prepare you to face uncertainty with hope and optimism. Want to be mentally tough, strong, resilient and prepared to adapt and thrive in changing circumstances? Self-confident to become your best you? It's time to break free from the self-destructive thoughts that hold you back.
Ready To Turn Your Biggest Obstacle Into Your Biggest Advantage? The stories we tell ourselves either limit us or propel us towards our goals.